F.5

Resources

This section provides pointers to additional resources related to R Markdown.
F.5.1

R Markdown

R Markdown is being actively developed by R Studio. To keep track of changes, the site at https://rmarkdown.rstudio.com is a good starting point.

For more detailed instructions on R Markdown see:

Useful practical resources on R Markdown include (in increasing amount of detail):
A Markdown Quick Reference card is available in R Studio via
Help > Markdown Quick Reference.

The R Markdown Cheatsheet, available in R Studio via
Help > Cheatsheets > R Markdown Cheat Sheet.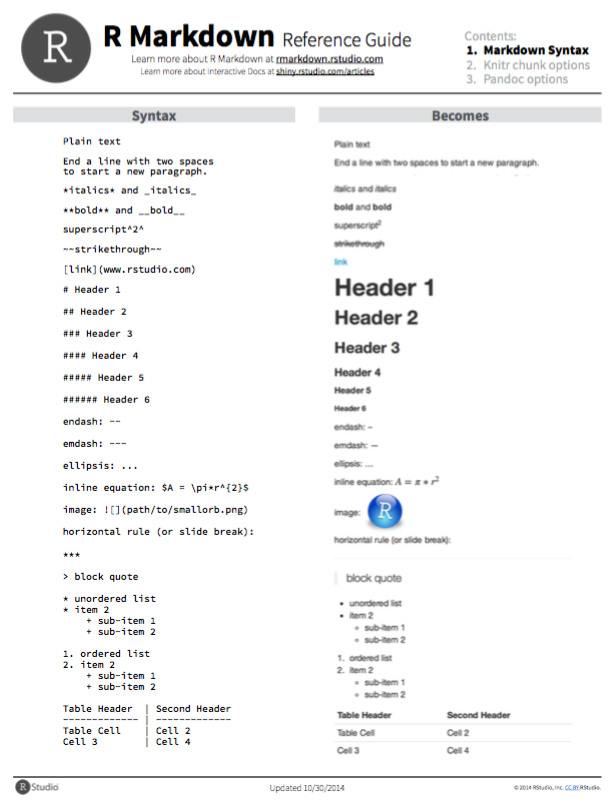 The keyboard shortcuts for frequent commands in R Studio are shown via Alt + Shift + K or
Help > Keyboard Shortcuts Help.
F.5.2

Miscellaneous links
Project Jupyter is a related project that develops open-source software, open-standards, and services for interactive computing across many programming languages (including R). Jupyter Notebook is an open-source web application that you can try here.

For background information on literate programming (Knuth, 1984), see
---

[80_rmarkdown.Rmd updated on 2020-09-16 12:30:43 by hn.]
References