D.2

Essentials of color in R

Issues of colors are complicated — even when only considering those in R. As our ways of perceiving colors are based on biology, experience, and language, a theoretical understanding of color is an ambitious inter-disciplinary endeavor at the intersection of aesthetics, humanities, and science. (See the Wikipedia articles on color vision and color theory to get started.)

From a practical point of view, most people using R for creating beautiful visualizations never need to worry about the theoretical underpinnings of color systems.67 Fortunately, R comes loaded with tools for dealing with color and a range of packages offer an abundance of pre-defined color palettes.

When looking for nice colors, most people's needs fall into 1 of 2 categories:
Find a color or color palette that suits my current goals.

Define a new color or color palette that suits my current goals.
We will discuss ways of addressing both needs in the following sections.
D.2.1

Basic R colors
R base colors
If you want to specify your own colors, you need to name them or select a color scale. R comes with 657 predefined colors, whose names can be viewed by evaluating colors() in the console, or running demo("colors"). Figure D.1 shows a random sample of 100 colors (from all 657 colors, but excluding over 200 shades of grey and gray):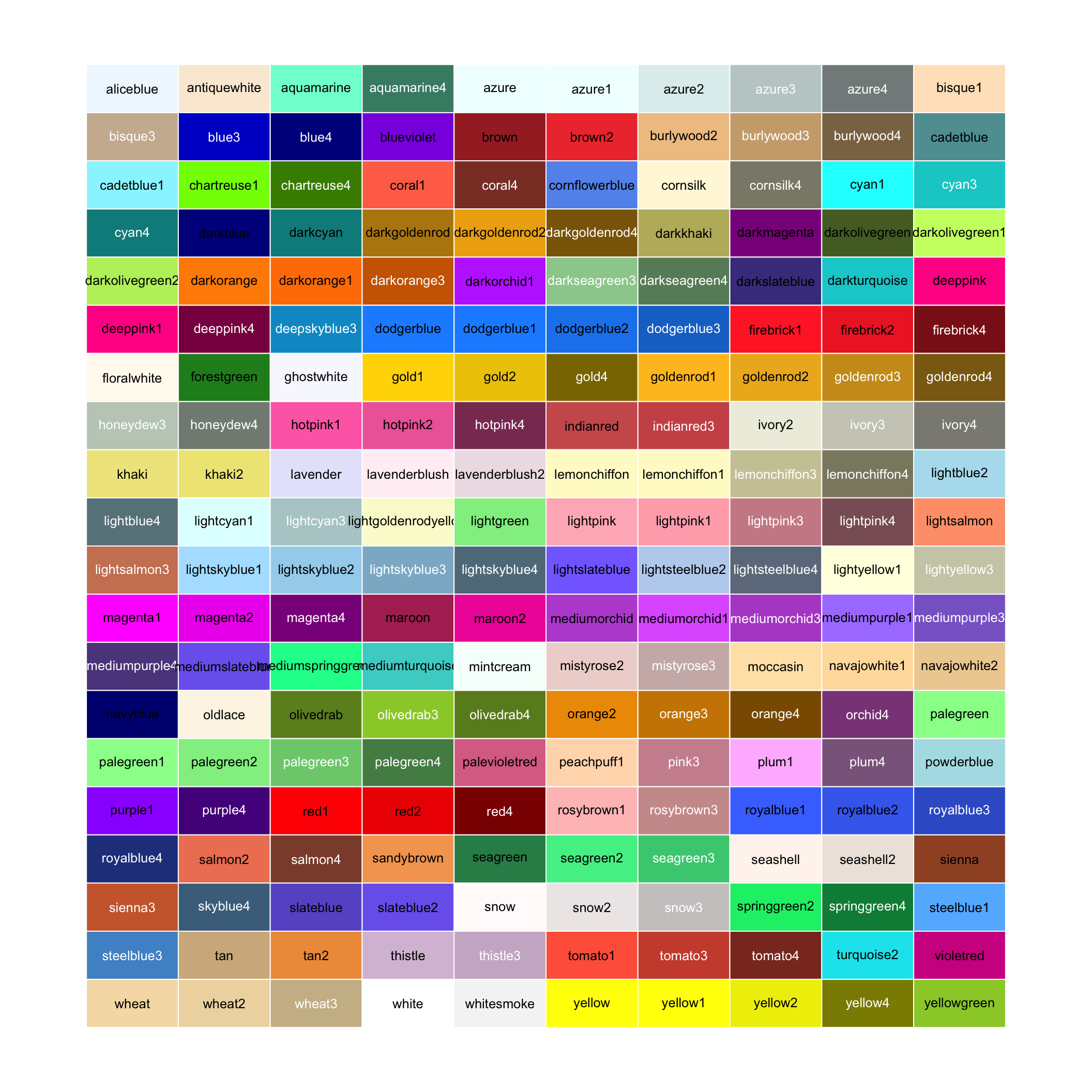 This figure shows that there is no shortage of vibrant colors in R. However, choosing and combining colors from the list of colors() resembles a lottery: We can get lucky, but in most cases the outcome will be disappointing. A more promising approach is using functions that generate color palettes that follow the same principles and thus are more likely to fit together.
R base color palettes
The grDevices package that is included in R comes with a range of functions that allow defining color palettes. To obtain continuous color palettes, the grDevices package of R traditionally offers several functions to define vectors of n colors: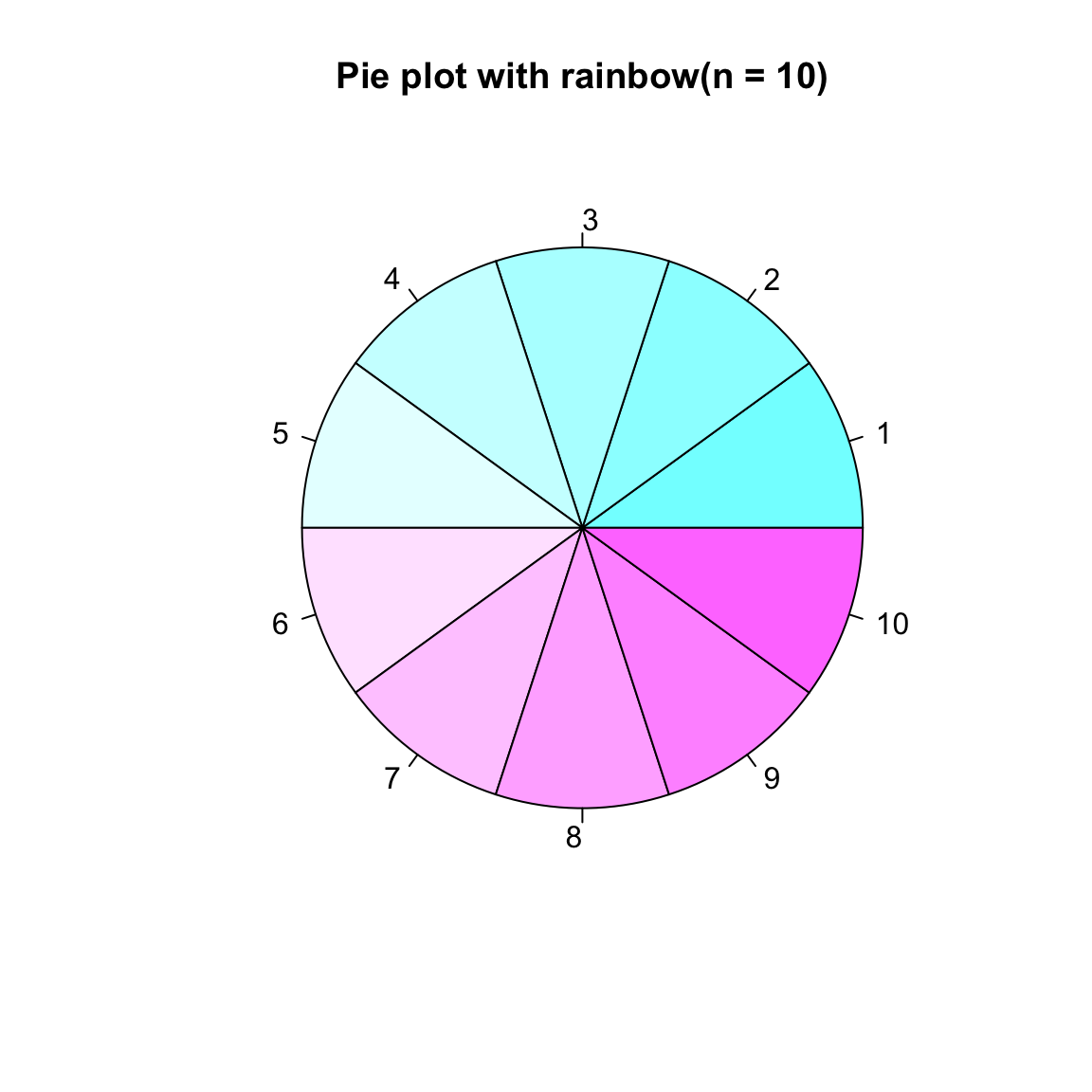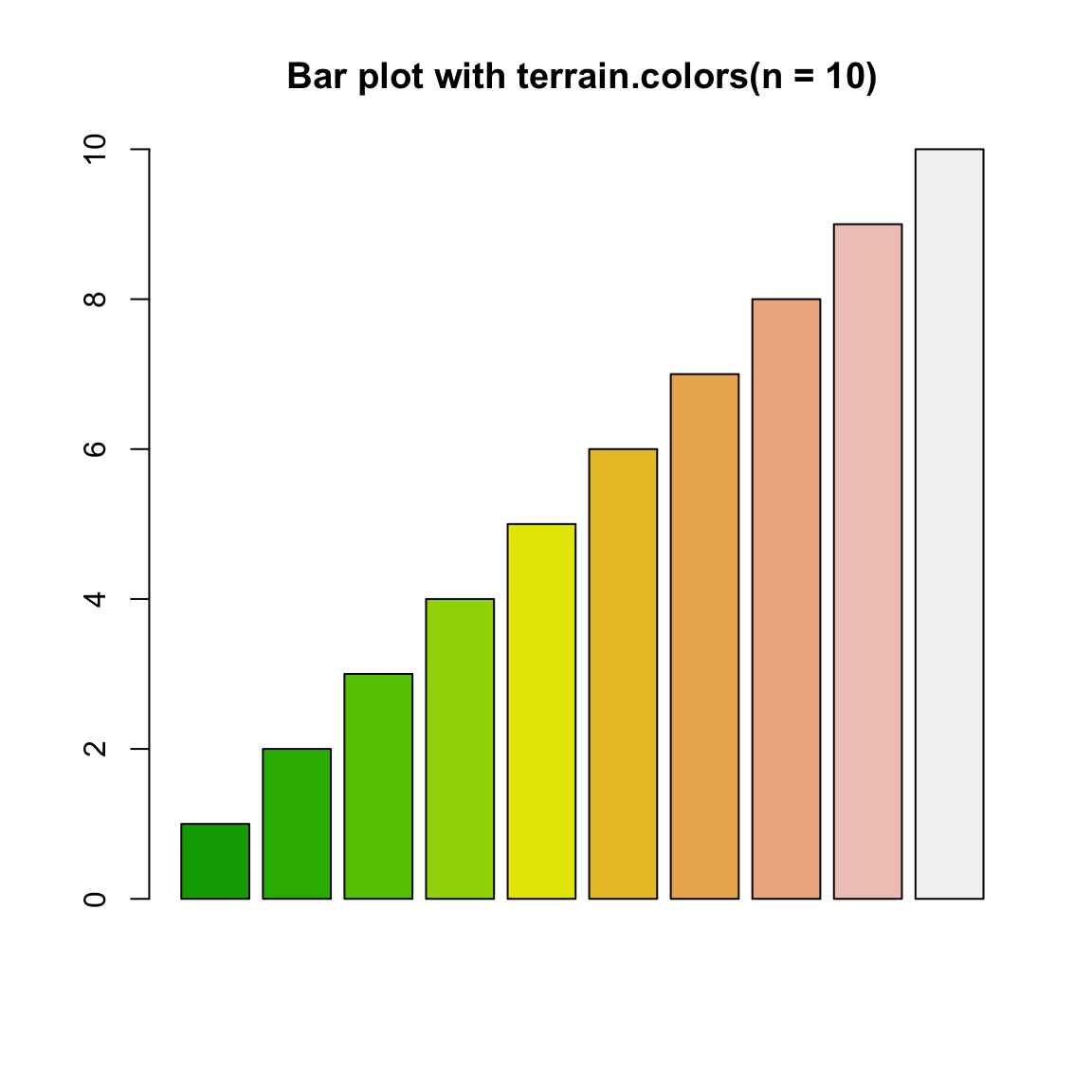 The color palettes returned as the output of these color functions are vibrant and bright: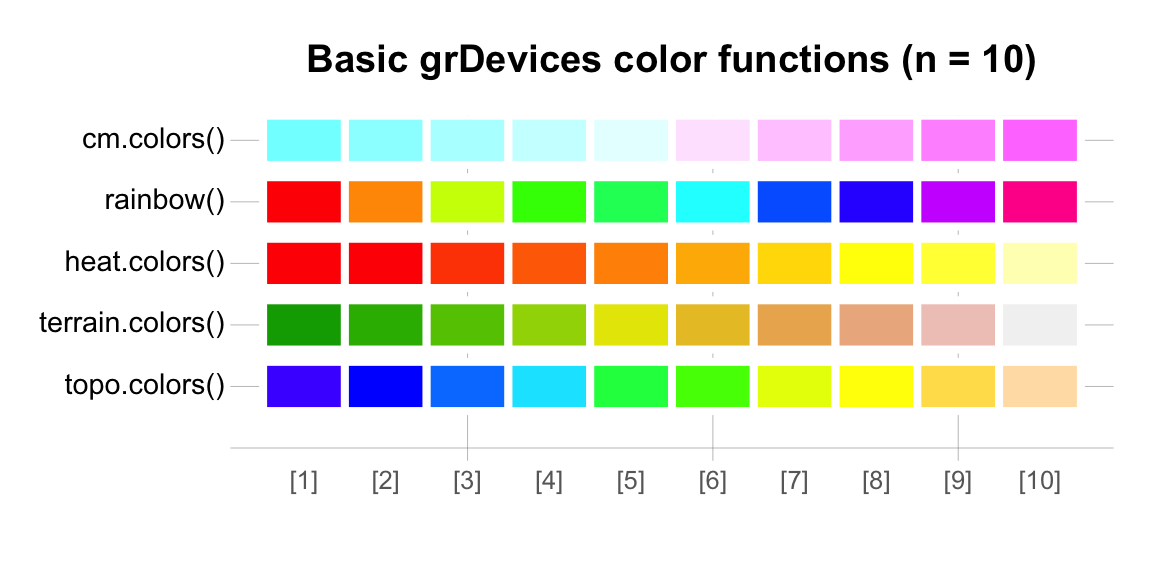 However, obtaining truly beautiful color palettes requires more than just automatically drawing colors from some function. The following color palettes have in common that they include an element of design.
HCL color palettes
Starting with R 3.6.0 (released on 2019-04-26), the hcl.colors() function of the grDevices package provides a basic and frugal implementation of the prespecified palettes in the colorspace package (Ihaka et al., 2019) (see this blog post for details). From this version onwards, the default colors for image() and filled.contour() are based on hcl.colors(). In addition, palette-generating functions (like rainbow() and gray.colors()) feature a new rev argument to facilitate reversing the order of colors (which can also be done by using rev() to reverse the output vector of a color function).
Evaluate hcl.pals() to obtain the names of 110 pre-defined HCL palettes. Here are some examples of palettes included in hcl.colors():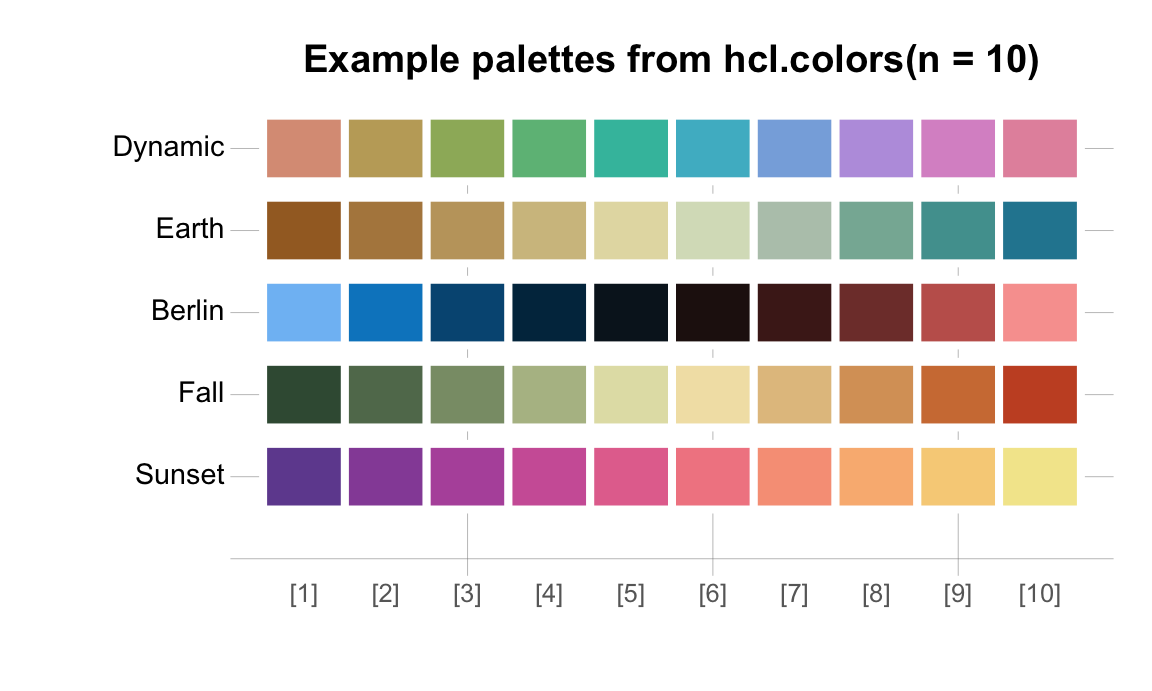 As hcl.colors() incorporates an immense range of color palettes from other packages (e.g., ColorBrewer, viridis, scico), this powerful functionality renders many other color packages obsolete. Nevertheless, the following color packages provide additional support for special purposes.
D.2.2

Color packages

Most packages that primarily deal with visualizations — like ggplot2, lattice, or plotly — load or provide predefined color palettes.

To reach beyond the 657 predefined colors of R and the color palettes included in grDevices, the primary resource are packages that provide additional — and typically more specialized — color support.

There is a large number of R packages that provide dedicated color support (i.e., define colors and color scales, and corresponding functions) for all means and purposes. As a consequence, many users of R never define a new color palette, but use the color palettes provided by others. However, to choose nice colors, we have to know which options exist and how they can be chosen and compared. As choosing colors is not just an art, but also a matter of taste, we merely mention some personal preferences in this section.
D.2.3

Defining colors and color palettes
References
Ihaka, R., Murrell, P., Hornik, K., Fisher, J. C., Stauffer, R., Wilke, C. O., … Zeileis, A. (2019). colorspace: A toolbox for manipulating and assessing colors and palettes. Retrieved from https://CRAN.R-project.org/package=colorspace
Okabe, M., & Ito, K. (2008). Color universal design (CUD): How to make figures and presentations that are friendly to colorblind people. J*Fly: Data Depository for Drosophila Researchers. Retrieved from https://jfly.uni-koeln.de/color/
Phillips, N. D. (2017). yarrr: A companion to the e-Book "YaRrr!: The Pirate's Guide to R". Retrieved from www.thepiratesguidetor.com
Wickham, H., Chang, W., Henry, L., Pedersen, T. L., Takahashi, K., Wilke, C., … Dunnington, D. (2020). ggplot2: Create elegant data visualisations using the grammar of graphics. Retrieved from https://CRAN.R-project.org/package=ggplot2
---
A basic understanding of color perception typically certainly helps in choosing better color palettes, but understanding the details of color theory is not a necessary prerequisite for creating beautiful visualizations.↩