3.1

Purpose and Procedure

The Project RISE qualitative data collection efforts consisted of Focus Group Discussions (FGDs) and Key Informant Interviews (KIIs). These were conducted by thoroughly trained investigators who are from and based in Bihar.

The qualitative discussions are a key component of the Project RISE mixed-methods approach. They were essential to the project because having open and free-flowing but semi-structured conversations could provide a wealth of deep and personal insights that could feed the design phase of the project and inform the content of the quantitative survey. This was the first data collection effort by the project. It preceded the quantitative surveys so the results could shape the design of the questions and otion sets in the survey.

The FGDs and KIIs were both set up as semi-structured interviews where the main goal was to encourage open and engaged conversation with the participants. This provides an opportunity to reach personal perspedctives and a depth of context and understand that is not readily available in quantitative surveys. Investigators asked about different kinds of health-related beliefs, rituals, and practices during the perinatal journey, which for these purposes was defined from just before conception to two months after birth. Conversations of this type can reveal how participants reason about their behaviors and choices and identify areas that should be more carefully targeted by quantitative surveys.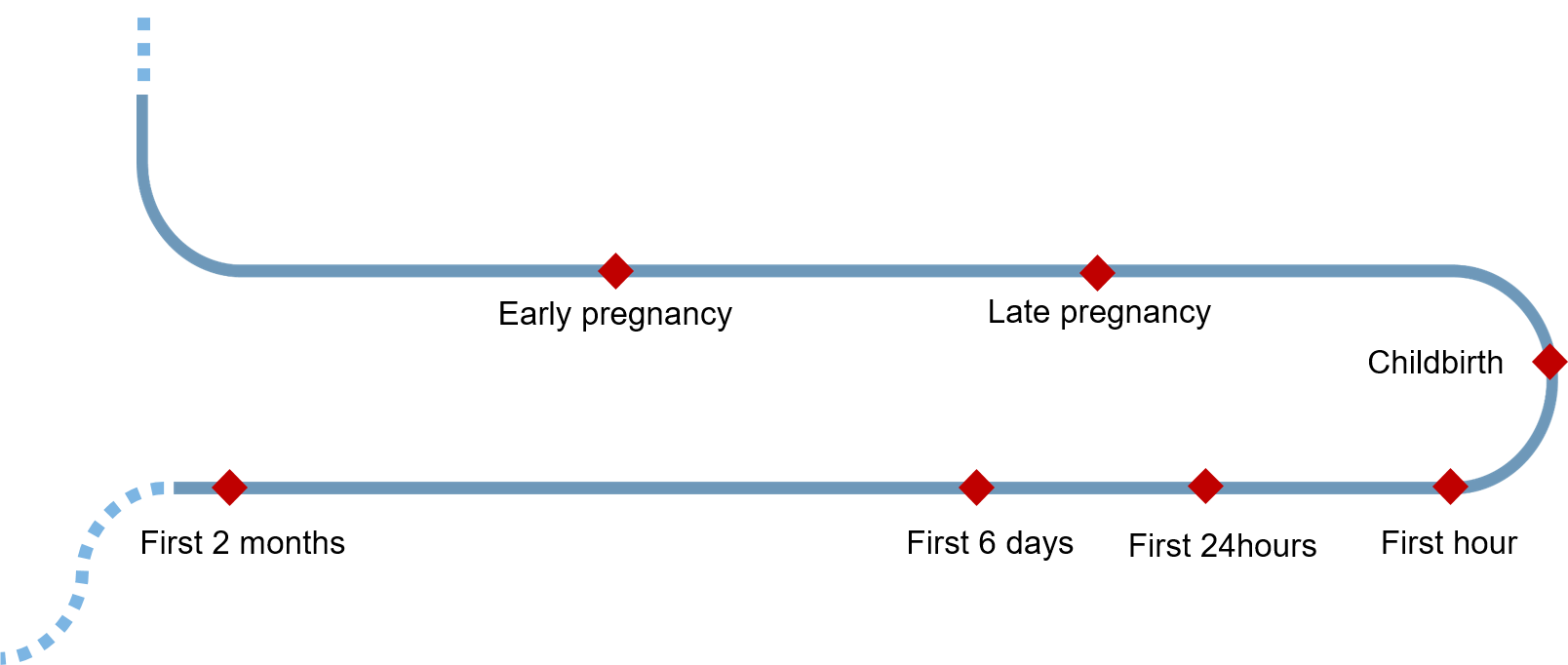 PCI investigators were trained in the specifics of these project methods, then conducted pilot sessions, followed by revisions to the procedures based on the results of the pilot sessions, and then another training session. Conversations were audio recorded for quality assurance. Basic demographic information was recorded on all participants. Researchers used a standardized set of checklists and followed uniform guidelines to ensure a consistent dialogue across FGDs, and used follow-up questions to resolve ambiguity. The FGDs consisted of 4 to 7 participants, in addition to the trained researcher and a note-taker, while KIIs consisted of a trained researcher, the interviewee, and a note-taker.
The researchers collected data during a three-week period in January, 2019.
The structure of the FGDs and KIIs was effectively the same. The reason some participants were interviewed in isolation was simply due to practical considerations of organizing groups of four or more, which was harder to do for more dispersed participants.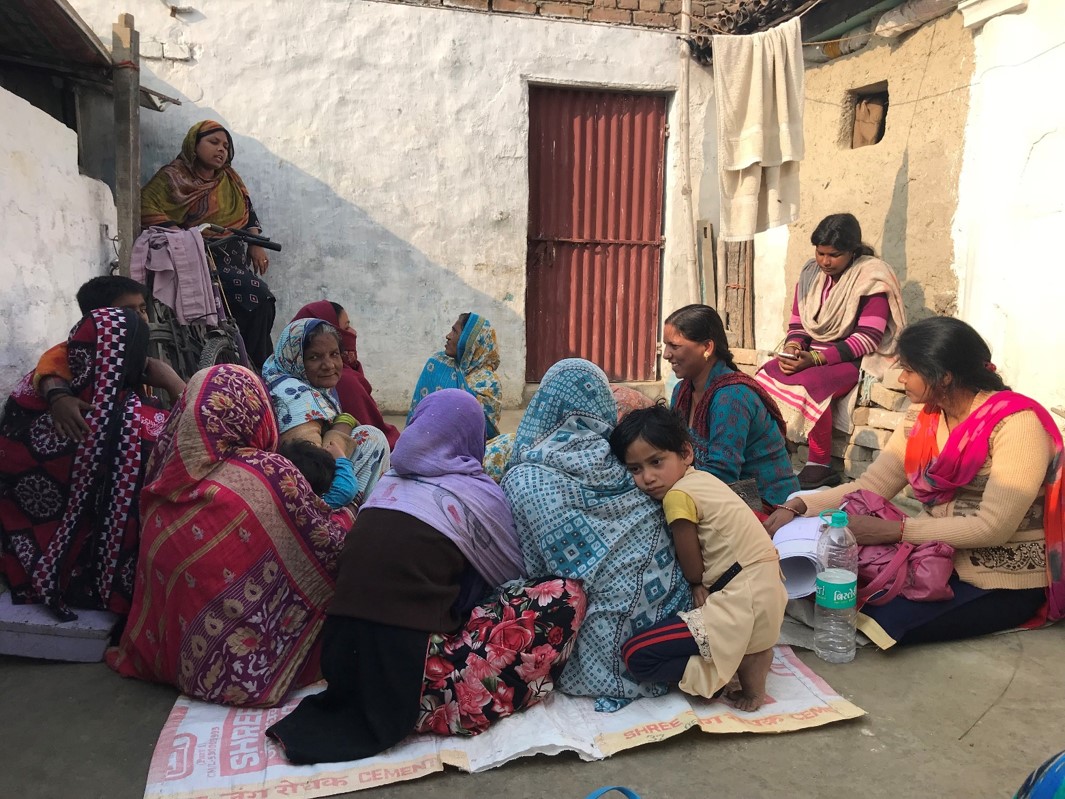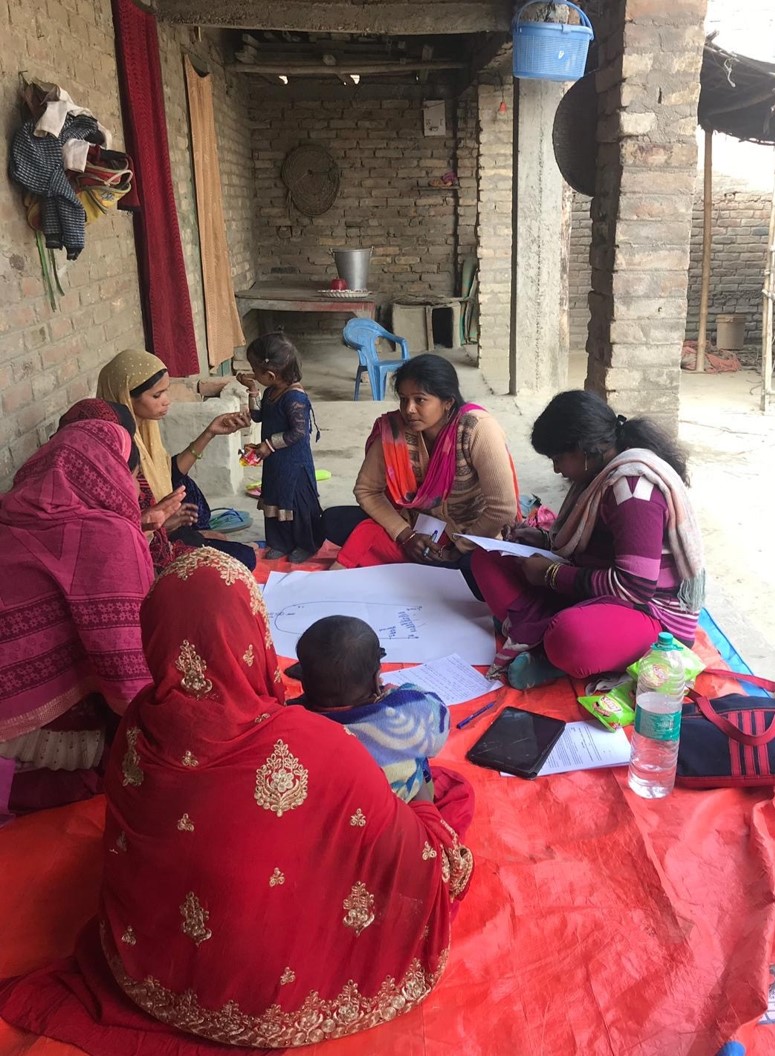 Twenty FGDs were conducted with two groups of women, recent mothers (n = 107 total participants) and mothers-in-law (MIL, n = 106 total participants), for 40 FGDs total (Table 3.1). For the recent mother sample, women had to have given birth within the previous two years. MILs are older mothers who have a married daughter or daughter-in-law with a child under 2 years of age. The participants in the mother FGDs ranged in age from 18 to 35 with a mean age of 24, and in the MIL FGDs ranged from 35 to 75 with a mean age of 52. The difference in mean age is a fairly ideal age gap for a generational comparison. The mother FGDs were composed of 69 Hindu and 38 Muslim women. The MIL FGDs had 68 and 37, respectively. Most of the FGDs had exclusively Hindu or Muslim participants.
Fifty KIIs were conducted. Twelve of which were with Accredited Social Health Activists (ASHAs), 11 with Anganwadi Workers (AWWs) in addition to 10 Dais, 6 Rural Medical Practitioners (RMPs), 5 Pandits, and 6 Mulanas (Table 3.2).
We gathered data from community members outside of beneficiaries in order better understand the health decision-making process of mothers during their pregnancy. ASHAs and AWWs are community health workers. RMPs are non-official but often a key contact for people regarding health. Dais are known as traditional birth attendants. Pandits and Mulanas are religious leaders in the community.
Table 3.1:

Focus Group Discussions

| Source | N_groups | N_women | Age |
| --- | --- | --- | --- |
| Mothers | 20 | 107 | 18-35, mean 24 |
| Mothers-in-law | 20 | 106 | 35-75, mean 52 |
Table 3.2:

Key Informant Interviews

| Source | N_interviews | Average.Age |
| --- | --- | --- |
| ASHA | 12 | 42 |
| AWW | 11 | 42 |
| Dai | 10 | 56 |
| RMP | 6 | 50 |
| Pandit | 5 | 50 |
| Mulana | 6 | 34 |