8.16

Web APIs
Super relevant.. there are APIs for everything
Classic use case: Companies provide data to developers
Today

Companies provide access to services over API
Upload data and get data back
e.g., upload German texts and get translations back
8.16.1

APIS
API = Application Programming Interface

a set of structured http requests that return data in a lightweight format.

HTTP = Hypertext Transfer Protocol

how browsers and e-mail clients communicate with servers. Source: Munzert et al. (2014), Figure 9.8
8.16.2

Types of APIs:
RESTful APIs: queries for static information at current moment (e.g. user profiles, posts, etc.)
Streaming APIs: real time data (e.g. new tweets, weather alerts…)
APIs generally have extensive documentation:
Written for developers, so must be understandable for humans
What to look for: endpoints and parameters.
e.g., DeepL API Documentation
Most APIs are rate-limited:
Restrictions on number of API calls by user/IP address and period of time.
Commercial APIs may impose a monthly fee
8.16.3

Connecting with an API

Constructing a REST API call:

From R, use httr package to make GET request:
library

(httr)
r <-

 

GET

(

"https://maps.googleapis.com/maps/api/geocode/json"

,


query=

list

(

address=

"budapest"

))
If request was successful, returned code will be 200, where 4xx indicates client errors and 5xx indicates server errors. If you need to attach data, use POST request.
library

(httr)
r <-

 

GET

(


"https://maps.googleapis.com/maps/api/geocode/json"

,


query=

list

(

address=

"budapest"

))
8.16.4

JSON format (responses)

Response is often in JSON format (Javascript Object Notation)
Type: content(r, "text")
Data stored in key-value pairs. Why? Lightweight, more flexible than traditional table format.
Curly brackets embrace objets; square brackets enclose arrays (vectors)
Use fromJSON function from jsonlite package to read JSON data into R
But many packages have their own specific functions to read data in JSON format; content(r, "parsed")
8.16.5

Authentication
Many APIs require an access key or token
An alternative, open standard is called OAuth
Connections without sharing username or password, only temporary tokens that can be refreshed
httr package in R implements most cases (examples)
8.16.6

R packages

Before starting a new project, worth checking if there's already an R package for that API. Where to look?
CRAN Web Technologies Task View (but only packages released in CRAN)
GitHub (including unreleased packages and most recent versions of packages)
rOpenSci Consortium
Also see this great list of APIs in case you need inspiration (see also here)
8.16.7

Why APIs?

Advantages:
'Pure' data collection: avoid malformed HTML, no legal issues, clear data structures, more trust in data collection…
Standardized data access procedures: transparency, replicability
Robustness: benefits from 'wisdom of the crowds'
Disadvantages
They're not too common (yet!)
Dependency on API providers
Lack of natural connection to R
8.16.8

Scraping: Decisions, decisions…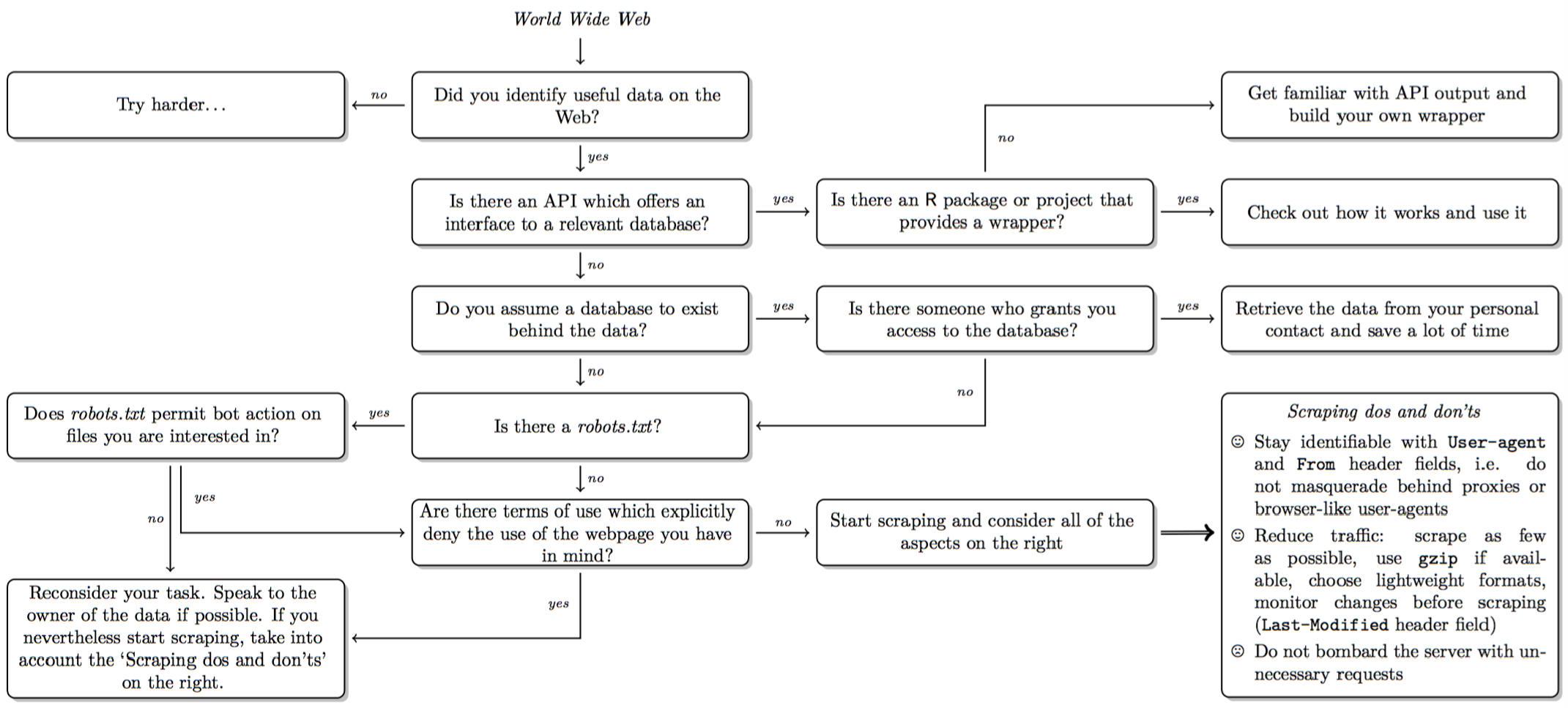 References
Munzert, Simon, Christian Rubba, Peter Meißner, and Dominic Nyhuis. 2014. Automated Data Collection with R: A Practical Guide to Web Scraping and Text Mining. John Wiley & Sons.