6

Qualitative Research and Interviews

So we've described doing a survey and collecting quantitative data. But not all questions can best be answered by a survey. A survey is great for understanding what people think (for example), but not why they think what they do. If your research is intending to understand the underlying motivations or reasons behind peoples actions, or to build a deeper understanding on the background of a subject, an interview may be the more appropriate data collection method.

Interviews are a method of data collection that consist of two or more people exchanging information through a structured process of questions and answers. Questions are designed by the researcher to thoughtfully collect in-depth information on a topic or set of topics as related to the central research question. Interviews typically occur in-person, although good interviews can also be conducted remotely via the phone or video conferencing. Unlike surveys, interviews give the opportunity to ask follow-up questions and thoughtfully engage with participants on the spot (rather than the anonymous and impartial format of survey research).

And surveys can be used in qualitative or quantitative research – though they're more typically a qualitative technique. In-depth interviews, containing open-ended questions and structured by an interview guide. One can also do a standardized interview with closed-ended questions (i.e. answer options) that are structured by an interview schedule as part of quantitative research. While these are called interviews they're far closer to surveys, so we wont cover them again in this chapter. The terms used for in-depth interviews we'll cover in the next section.
6.1

Interviews

In-depth interviews allow participants to describe experiences in their own words (a primary strength of the interview format). Strong in-depth interviews will include many open-ended questions that allow participants to respond in their own words, share new ideas, and lead the conversation in different directions. The purpose of open-ended questions and in-depth interviews is to hear as much as possible in the person's own voice, to collect new information and ideas, and to achieve a level of depth not possible in surveys or most other forms of data collection.

Typically, an interview guide is used to create a soft structure for the conversation and is an important preparation tool for the researcher. You can not go into an interview unprepared and just "wing it"; what the interview guide allows you to do is map out a framework, order of topics, and may include specific questions to use during the interview. Generally, the interview guide is thought of as just that — a guide to use in order to keep the interview focused. It is not set in stone and a skilled researcher can change the order of questions or topics in an interviews based on the organic conversation flow.

Depending on the experience and skill level of the researcher, an interview guide can be as simple as a list of topics to cover. However, for consistency and quality of research, the interviewer may want to take the time to at least practice writing out questions in advance to ensure that phrasing and word choices are as clear, objective, and focused as possible. It's worth remembering that working out the wording of questions in advance allows researchers to ensure more consistency across interview. The interview guide below, taken from the wonderful and free textbook Principles of Sociological Inquiry, shows an interview guide that just has topics.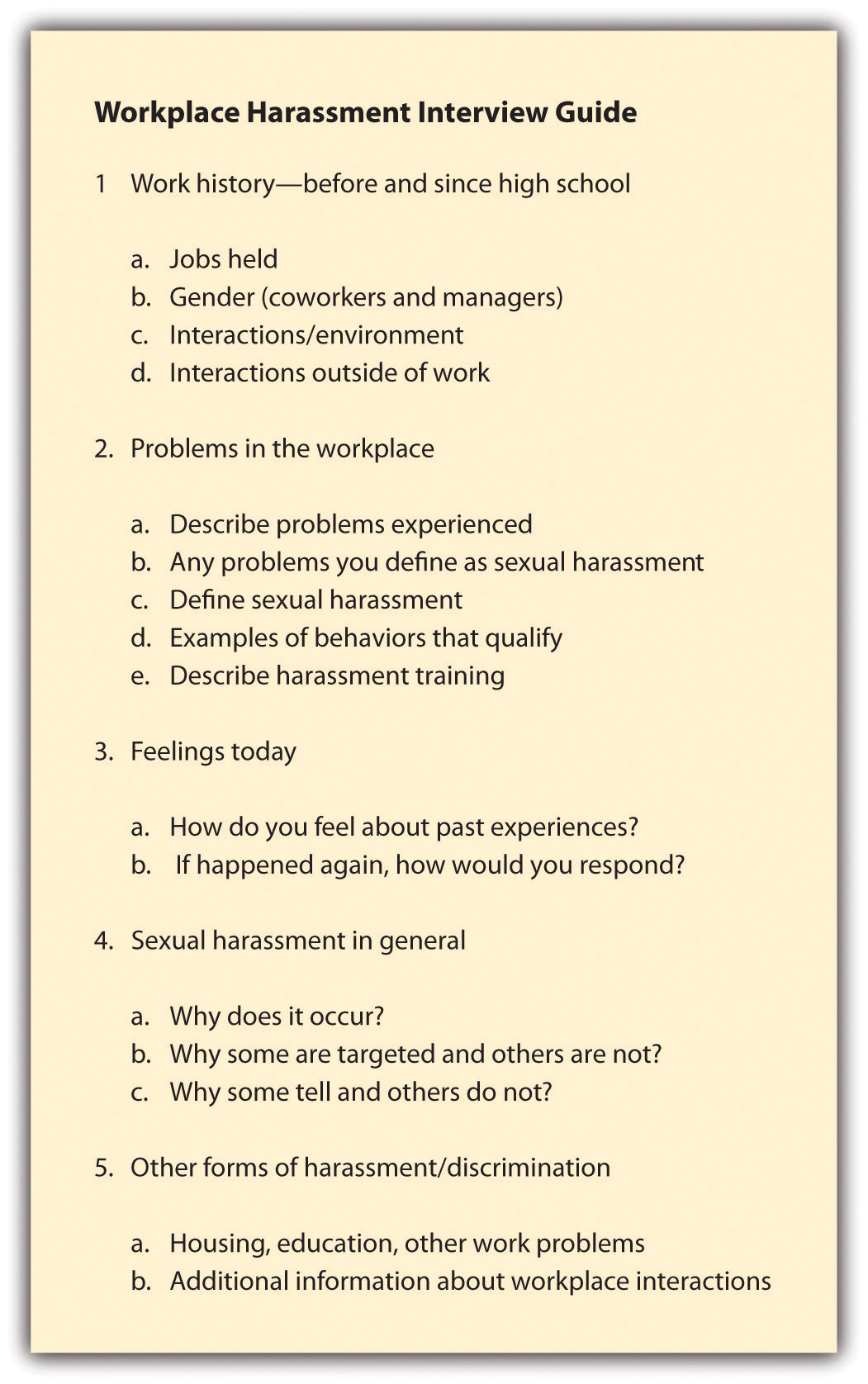 Alternatively, you can use a more detailed guide that lists out possible questions, as shown below. A more detailed guide is probably better for an interviewer that has less experience, or is just beginning to work on a given topic.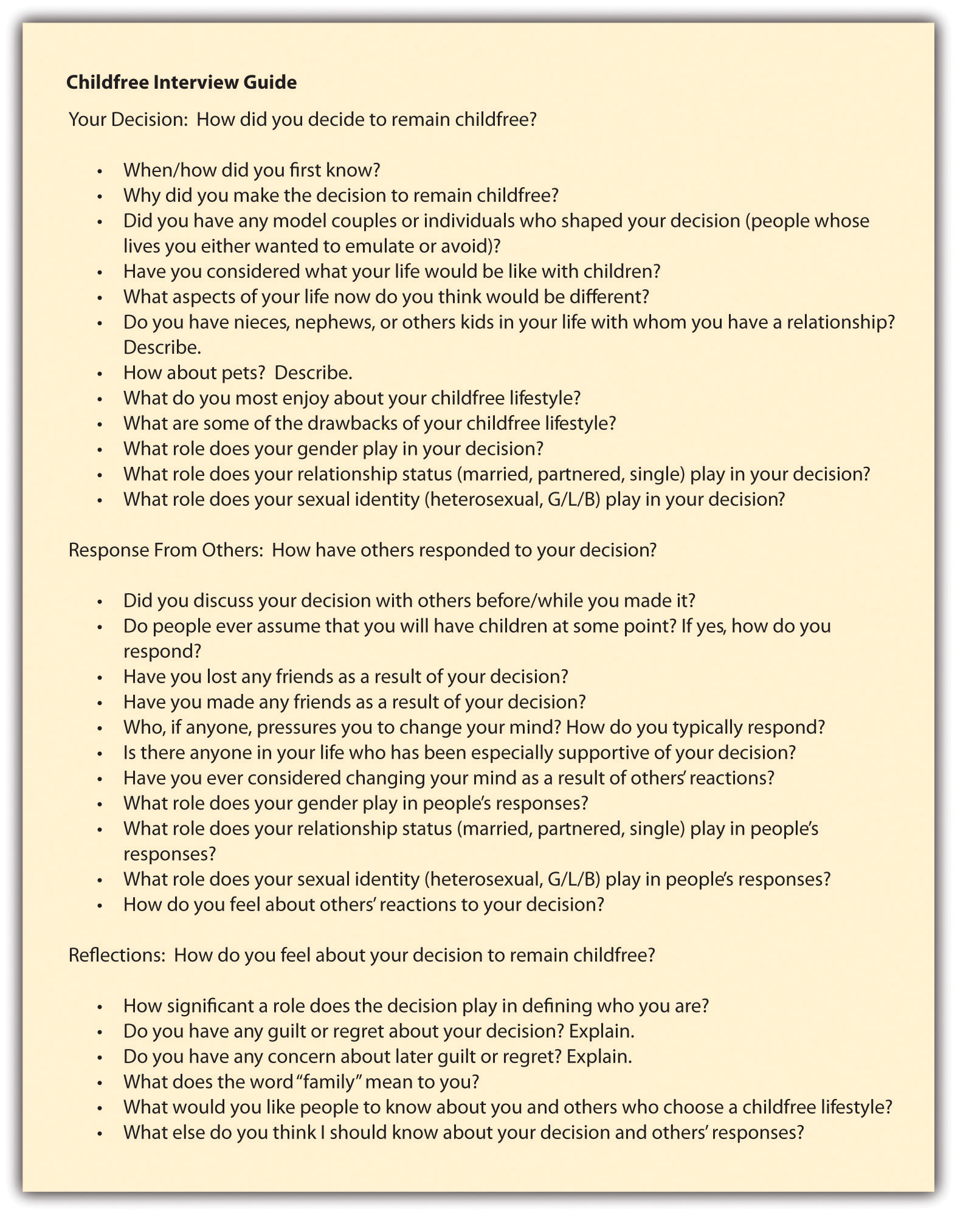 The purpose of an interview guide is to help ask effective questions and to support the process of acquiring the best possible data for your research. Topics and questions should be organized thematically, and in a natural progression that will allow the conversation to flow and deepen throughout the course of the interview. Often, researchers will attempt to memorize or partially memorize the interview guide, in order to be more fully present with the participant during the conversation.
6.2

Asking good Questions

Remember, the purposes of interviews is to go more in-depth with an individual than is possible with a generalized survey. For this reason, it is important to use the guide as a starting point but not to be overly tethered to it during the actual interview process. You may get stuck when respondents give you shorter answers than you expect, or don't provide the type of depth that you need for your research. Often, you may want to probe for more specifics. Think about using follow up questions like "How does/did that affect you?" or "How does X make you feel?" and "Tell me about a time where X…"

For example, if I was researching the relationship between pets and mental health, some strong open-ended questions might be: * How does your pet typically make you feel when you wake up in the morning? * How does your pet generally affect your mood when you arrive home in the evening? * Tell me about a time when your pet had a significant impact on your emotional state.

Questions framed in this manner leave plenty of room for the respondent to answer in their own words, as opposed to leading and/or truncated questions, such as: * Does being with your pet make you happy? * After a bad day, how much does seeing your pet improve your mood? * Tell me about how important your pet is to your mental health.

These questions assume outcomes and will not result in high quality research. Researchers should always avoid asking leading questions that give away an expected answer or suggest particular responses. For instance, if I ask "we need to spend more on public schools, don't you think?" the respondent is more likely to agree regardless of their own thoughts. Some wont, but humans generally have a strong natural desire to be agreeable. That's why leaving your questions neutral and open so that respondents can speak to their experiences and views is critical.
6.3

Analyzing Interview Data

Writing good questions and interviewing respondents are just the first steps of the interview process. After these stages, the researcher still has a lot of work to do to collect usable data from the interview. The researcher must spend time coding and analyzing the interview to retrieve this data. Just doing an interview wont produce data. Think about how many conversations you have everyday, and none of those are leaving you swimming in data.

Hopefully you can record your interviews. Recording your interviews will allow you the opportunity to transcribe them word for word later. If you can't record the interview you'll need to take detailed notes so that you can reconstruct what you heard later. Do not trust yourself to "just remember" the conversation. You're collecting data, precious data that you're spending time and energy to collect. Treat it as important and valuable. Remember our description of the methodology section from Chapter 2, you need to maintain a chain of custody on your data. If you just remembered the interview, you could be accused of making up the results. Your interview notes and the recording become part of that chain of custody to prove to others that your interviews were real and that your results are accurate.

Assuming you recorded your interview, the first step in the analysis process is transcribing the interview. A transcription is a written record of every word in an interview. Transcriptions can either be completed by the researcher or by a hired worker, though it is good practice for the researcher to transcribe the interview him or herself. Researchers should keep the following points in mind regarding transcriptions: * The interview should take place in a quiet location with minimal background noise to produce a clear recording; * Transcribing interviews is a time-consuming process and may take two to three times longer than the actual interview; * Transcriptions provide a more precise record of the interview than hand written notes and allow the interviewer to focus during the interview.

After transcribing the interview, the next step is to analyze the responses. Coding is the main form of analysis used for interviews and involves studying a transcription to identify important themes. These themes are categorized into codes, which are words or phrases that denote an idea.

You'll typically being with several codes in mind that are generated by key ideas you week seeking in the questions, but you can also being by using open coding to understand the results. An open coding process involves reading through the transcript multiple times and paying close attention to each line of the text to discover noteworthy concepts. During the open coding process, the researcher keeps an open mind to find any codes that may be relevant to the research topic.

After the open coding process is complete, focused coding can begin. Focused coding takes a closer look at the notes compiled during the open coding stage to merge common codes and define what the codes mean in the context of the research project.

Imagine a researcher is conducting interviews to learn about various people's experiences of childhood in New Orleans. The following example shows several codes that this researcher extrapolated from an interview with one of their subjects.

6.4

Using interview data

The next chapter will address ways to identify people to interview, but most of the remainder of the book will address how to analyze quantitative data. That shouldn't be taken as a sign that quantitative data is better, or that it's easier to use interview data. Because in an interview the researcher must interpret the words of others it is often more challenging to identify your findings and clearly answer your research question. However, quantitative data is more common, and there are more different things you can do with it, so we spend a lot of the textbook focusing on it.

I'll work through one more example of using interview data though. It takes a lot of practice to be a good and skilled interviewer. What I show below is a brief excerpt of an interview I did, and how that data was used in a resulting paper I wrote. These aren't the only way you can use interview data, but it's an example of what the intermediary and final product might look like.

The overall project these are drawn from was concerned with minor league baseball stadiums, but the specific part I'm pulling from here was studying the decline and rejuvenation of downtown around those stadiums in several cities. You'll see that I'm using the words of the respondent fairly directly, because that's my data. But I'm not just relying on one respondent and trusting them, I did a few dozen interviews in order to understand the commonalities in people's perspectives to build a narrative around my research question.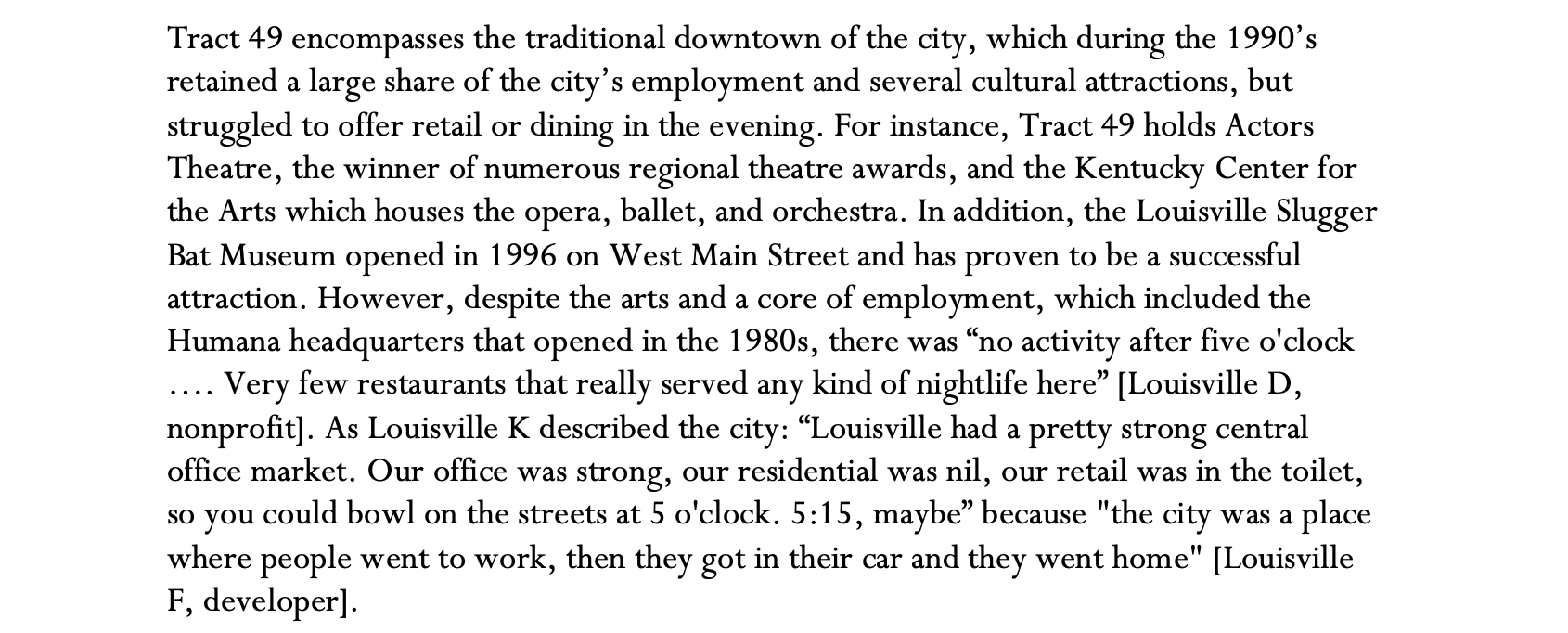 How many interviews are necessary? It actually doesn't take many. What you want to observe in your interviews is theoretical saturation, where the codes you use in the transcript begin to appear across conversations and groups. If different people disagree that's fine, but what you want to understand is the commonalities across peoples perspectives. Most research on the subject says that with 8 interviews you'll typically start to see a decline in new information gathered. That doesn't mean you won't get new words, but you'll stop hearing completely unique perspectives or gain novel insights. At that point, where you've 'heard it all before' you can stop, because you've probably identified the answer to the questions you were trying to research.
6.5

Ensuring Anonymity

One significant ethical concern with interviews, that also applies to surveys, is making sure that respondents maintain anonymity. In either form of data collection you may be asking respondents deeply personal questions, that if exposed may cause legal, personal, or professional harm. Notice that in the excerpt of the paper above the respondents are only identified by an id I assigned (Louisville D) and their career, rather than their name. I can only include the excerpt of the interview notes above because there are no details that might lead to them being identified.

You may want to report details about a person to contextualize the data you gathered, but you should always ensure that no one can be identified from your research. For instance, if you were doing research on racism at large companies, you may want to preface people's comments by their race, as there is a good chance that white and minority employees would feel differently about the issues. However, if you preface someones comments by saying they're a minority manager, that may violate their anonymity. Even if you don't state what company you did interviews with, that may be enough detail for their co-workers to identify them if there are few minority managers at the company. As such, always think long and hard about whether there is any way that the participation of respondents may be exposed.
6.6

Why not both?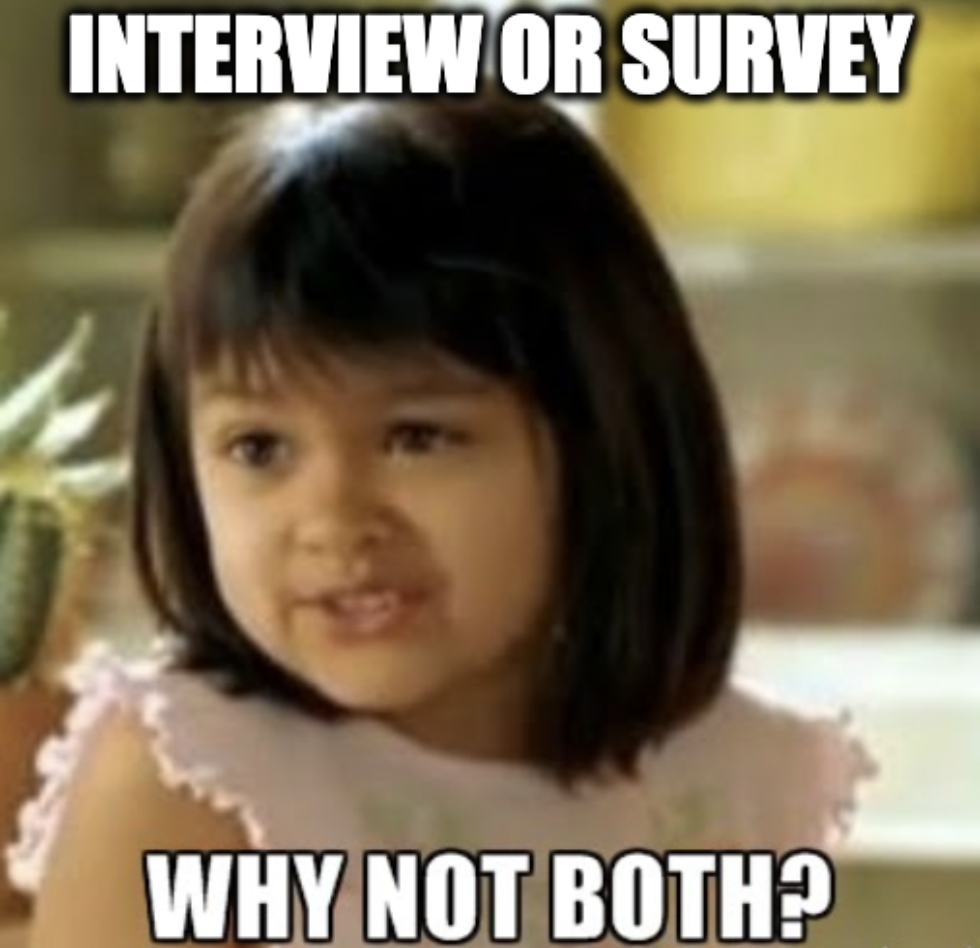 We've discussed surveys and interviews as different methods the last two chapters, but they can also complement each other.
For instance, let's say you're curious to study people who change opinions on abortion, either going from support to opposition or vice versa. You could use a survey to understand the prevalence of changing opinions, i.e. what percentage of people in your city have changed their views. That would help to establish whether this is a prominent issue, or whether it's a rare phenomenon. But it would be difficult to understand from the survey what makes people change their views. You could add an open ended question for anyone that said they changed their opinion, but many people won't respond and few will provide the level of detail necessary to understand their motivations. Interviews with people that have changed their opinions would give you an opportunity to explore how their experiences and beliefs have changed in combination with their views towards abortion.
6.7

Summary

In the last two chapters we've discussed the two most prominent methods of data collection in the social sciences: surveys and interviews. What we haven't discussed though is how to identify the people you'll collect data from; that's called a sampling strategy. In the next chapter