Epilogue
"Always be a little improbable" -Oscar Wilde
Probability Playlist
If you're going to learn probability, you have to do it with the right soundtrack.
Final Words
In the academic world (and, in many senses, the modern world in general) we place a high premium on generating new ideas. Individuals are often measured by their novel contributions to a field. Some conduct research that unearths a new understanding about a topic; others complete an exceptionally difficult proof. Some reach these achievements through years of hard work and dedication; others from a singular moment of genius.
Consider how this 'idea generation' takes place. Most would likely argue for this type of model: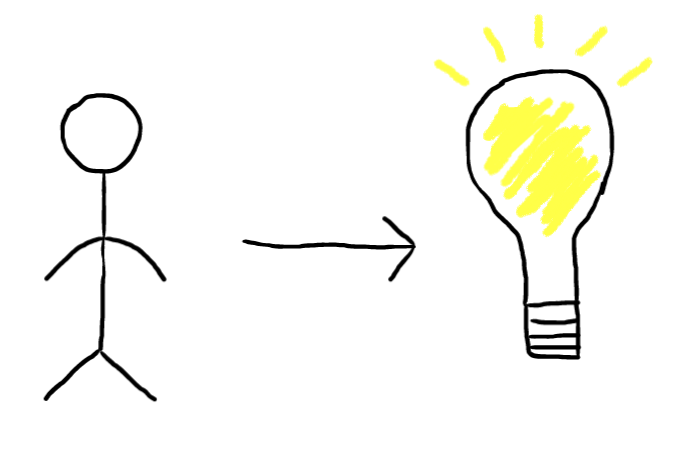 Here, we have an individual creating their dazzling contribution (the light-bulb). In fact, this is likely how many of us would capture the 'generating' process: a single brilliant person who works to create something special. However, in reality, this is a superficial model that only functions in a vacuum. We can zoom out for a more complete picture:

The point of this diagram is that, no matter how intellectual, hard-working, or creative an individual is, and no matter how much potential they have within a certain field, they have to be inspired first. Albert Einstein would have never become a worldwide phenomenon if he didn't learn to love physics; Michael Jordan might be selling insurance if he didn't find passion in the game of basketball.
This inspiration can come from anywhere, and it usually comes from someone else. If you could ask Einstein or MJ, they would probably be able to point a specific person that gave them an inspiration to engage in their field. Undergraduate institutions across the country constantly mix up these diagrams. Professors, TAs, etc. are too often focused on their own idea generation (the first diagram) that they forget to inspire the students around them; students that then, in turn, could go on to enhance the field!
The point here is that, no matter what you are passionate about (and, hopefully, that now includes Statistics), don't forget to inspire others. Everyone has a role in their own field, and while it's incredibly important to provide your own contributions, it's just as valuable to inspire others to achieve themselves. Propagating passion, in any field, is always the first step.
After all, conditioning may be the soul of Statistics, but you are its worldly vessel!
References