Chapter 7

Miscellaneous
7.1

NCA software

The NCA software is a free package in R called NCA. The first version of the NCA software was released in 2015 just before the online publication of NCA's core paper (Dul, 2016b) on 15 July, 2015. Since then the software was updated several times to correct bugs, integrate new NCA developments, and make improvements based on feedback from users. The following versions have been released so far:

NCA_1.0 (2015-07-02)

NCA_1.1 (2015-10-10)

NCA_2.0 (2016-05-18)

NCA_3.0 (2018-08-01)

NCA_3.0.1 (2018-08-21)

NCA_3.0.2 (2019-11-22)

NCA_3.0.3 (2020-06-11)

NCA_3.1.0 (2021-03-02)

NCA_3.1.1 (2021-05-03)

NCA_3.2.0 (2022-04-05)

When the first digit of the version number increases, major changes were implemented. Version 1 was the first limited version, version 2 was the first comprehensive version, and version 3 includes the statistical test for NCA. The second digit refers to larger changes and the third digit minor changes.

The currently installed version of the NCA software and the availability of a new version can be checked as follows:
packageVersion

(

"NCA"

) 

# installed version




available.packages

()[

"NCA"

,

2

] 

# available version
The cumulative number of downloads of the NCA software from the CRAN website are shown in Figure 7.1.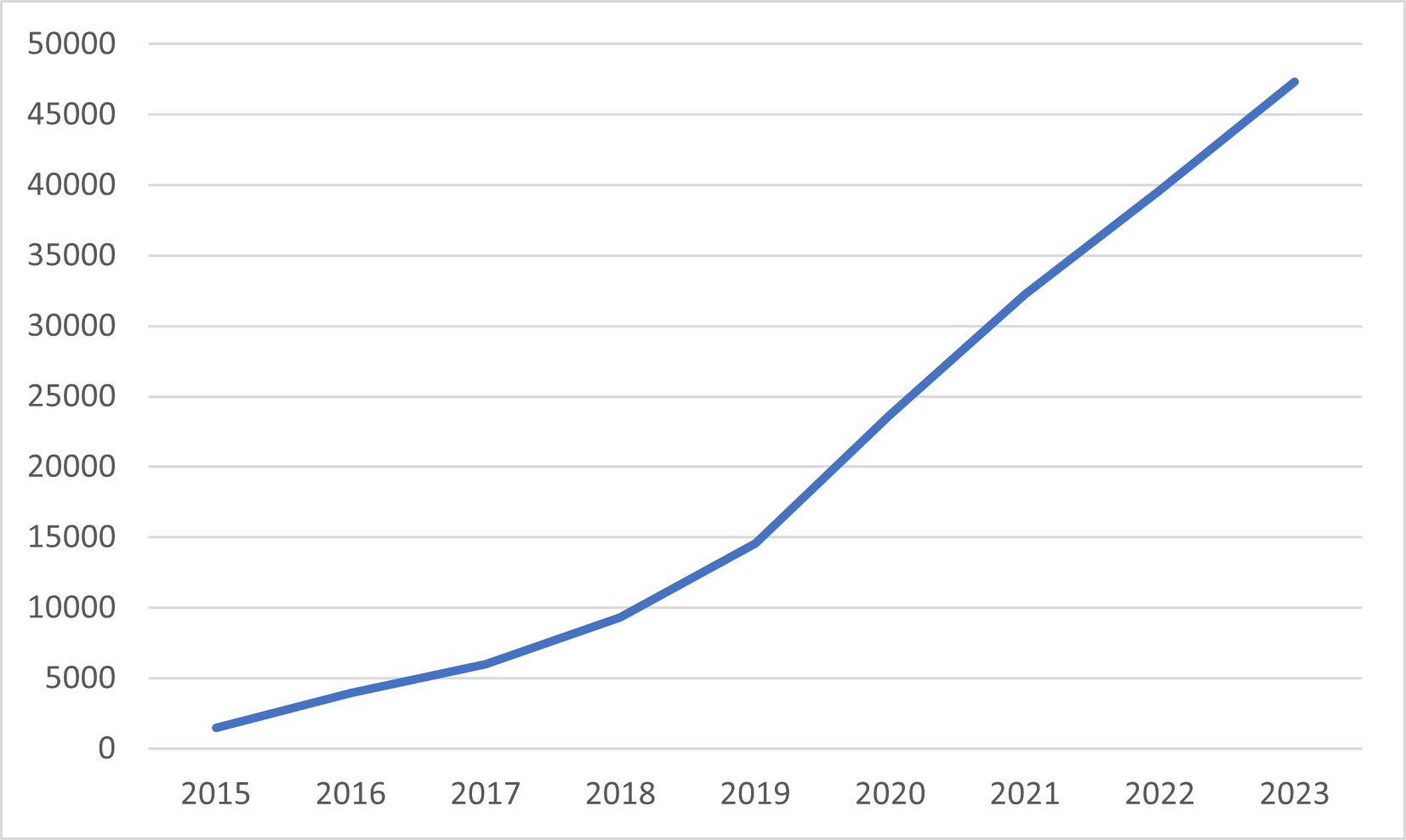 Until 31 December 2021 the software was downloaded more than 30,000 times.
The current cumulative number of downloads can be obtained by:
library

(

"cranlogs"

)


<-

 

cran_downloads

(

packages =

 

"NCA"

, 

from =

 

"2015-07-02"

, 

to =

 

Sys.Date

())
 x 

cat

(

"total downloads on"

)
## total downloads on
## [1] "2022-08-06"
## [1] 36529
The Quick Start Guide helps novice users of R and NCA to get started, but the guide also includes more advanced features. The NCA package has a build-in help function with examples. Within R, the help function can be called as follows:
When help is needed for a specific function in NCA, for example nca_analysis the help for this function can be called as follows:
Currently, the NCA software is not available in statistical packages like SPSS or Stata.
7.2

Producing high-quality NCA scatter plots

One of the primary results of NCA is the 'NCA plot,' which is a scatter plot with ceiling line(s). Users often wish to save a high quality NCA plot for further use, for example for a publication. There are several ways to make and save a high quality NCA plot. In this section six ways are presented that have different levels of user flexibility:
Standard plot.

Standard plot with basic adaptations.

Standard plot with advanced adaptations.

Advanced plot with plotly.

Advanced plot with ggplot.

From within R script.
References
Dul, J. (2016b).
Necessary Condition Analysis
(NCA) logic and methodology of
"necessary but not sufficient"
causality.
Organizational Research Methods
,
19
(1), 10–52.
https://doi.org/10.1177/1094428115584005