Advances in Necessary Condition Analysis
Welcome
This book addresses a variety of advanced topics in Necessary Condition Analysis (NCA) to support users, readers and reviewers of the method. NCA is an emerging research method that is rapidly entering a variety of research fields in the social, medical and technical sciences. Since the start of NCA in 2016, the number of publications that apply NCA in Web of Science (Clarivate) ranked journals has rapidly increased to a total of 61 articles by the end of 2021 (see Figure 0.1).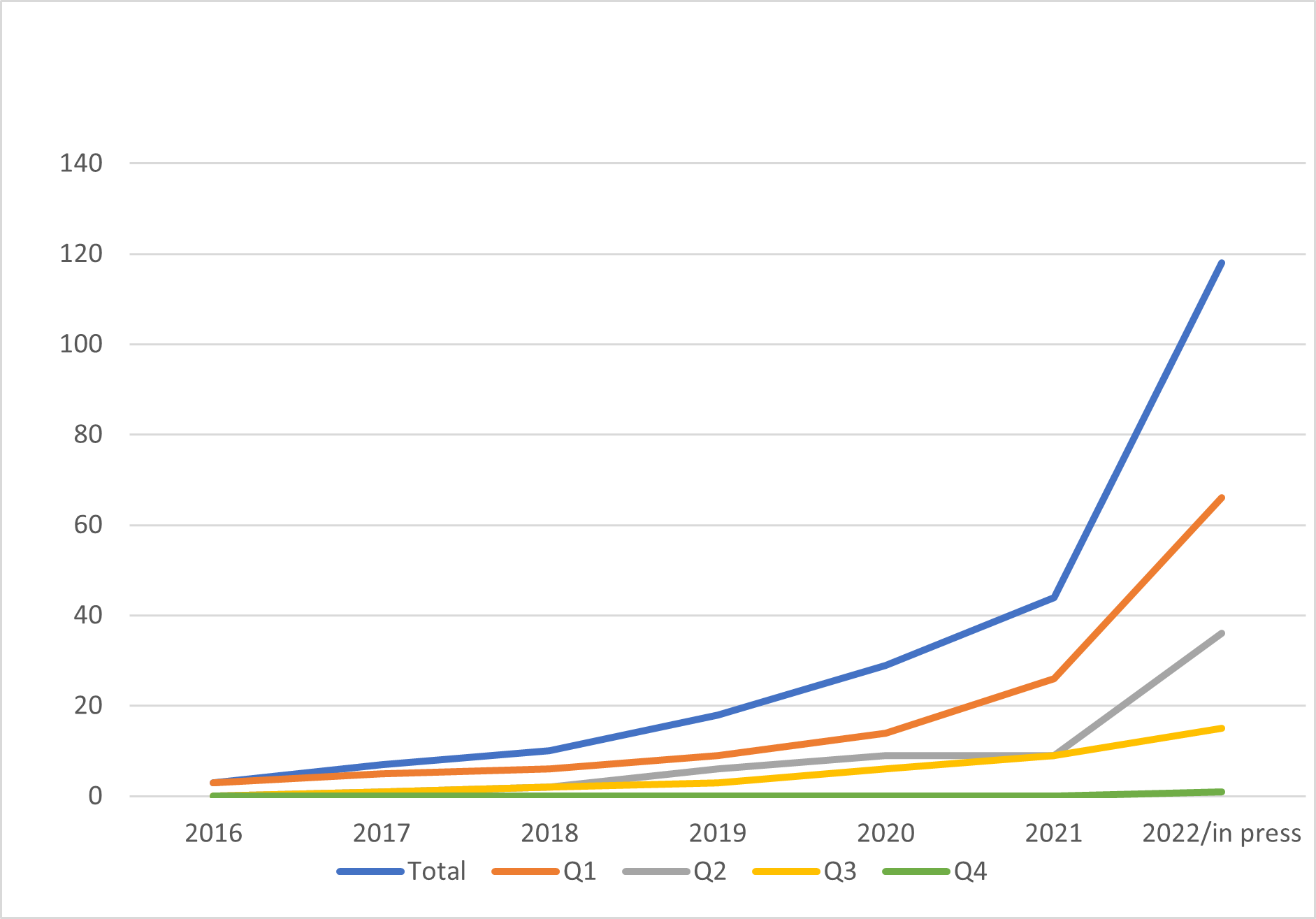 About a quarter (26%) of the articles use NCA as the sole or primary research method (recent examples published in 2020 or later include Camitan IV & Bajin, 2021; Chaurasia et al., 2020; Kumar, 2021; Lee & Jeong, 2020; Tuuli & Rhee, 2021). Another about a quarter (23%) of the articles combine NCA with Qualitative Comparative Analysis (QCA) (e.g., Bouncken, Fredrich, et al., 2020; Bouncken, Ratzmann, et al., 2020; Delgosha et al., 2020; Du & Kim, 2021; Farmaki & Pappas, 2021; Gantert et al., 2022; Kopplin & Rösch, 2021; Mazumder & Garg, 2021; Pappas, 2021; Pappas & Glyptou, 2021b, 2021a; Torres & Godinho, 2021). About half (51%) of the articles are multi-method articles that apply NCA in combination with Multiple Linear Regression, MLR (e.g., Costa et al., 2021; Jain et al., 2021; Jaiswal & Zane, 2021; Karwowski et al., 2020; Klimas et al., 2021; Kobarg et al., 2020; Korman et al., 2021; Richter, Schlaegel, et al., 2020), Structural Equation Modeling, SEM (e.g., Franke & Foerstl, 2020; Lee & Jeong, 2021), or Partial Least Squares Structural Equation Modeling, PLS-SEM (e.g., Della Corte et al., 2021; Kopplin et al., 2021; Kopplin & Rausch, 2021; Liu et al., 2021; Lyu et al., 2021; Richter et al., 2021).
Some articles that apply NCA did not find a necessary condition (Batey et al., 2021; Golini et al., 2016) but the majority identified at least one.
The entire NCA method consists of three parts:
Using necessity logic for developing theoretical statements (theory, hypotheses).

Data analysis for calculating necessity parameters.

Statistical testing for evaluating necessity parameters.
The book supplements existing methodological publications that describe NCA at the basic level (Dul, 2016, 2020; Dul, Van der Laan, et al., 2020). Also summaries of the method have appeared in different substantive fields including Human Resource Management (Hauff et al., 2021), Marketing (Dul et al., 2021), Tourism Management (Tóth et al., 2019), Education (Tynan et al., 2020), and Creativity (Dul, Karwowski, et al., 2020). Richter, Schubring, et al. (2020) provide guidelines for combining NCA with Partial Least Squares structural equation modeling (PLS-SEM).
Because NCA is an emerging method, new insights are gained, and extensions are being developed. This book intends to provide the latest insights and developments of NCA. The topics are selected from interactions with the research community at conferences, webinars, workshops and in email exchanges. Some topics are extensively covered, others await elaboration.
This book was first published online in 2021. As the NCA approach is developing, the content of the book is developing as well. The book will therefore remain an online book with a version number. Please, contact the author if you want to react on the book or wish to have new topics covered in it. Your contribution will be acknowledged.
The suggested reference to the book is Dul, J. (2021) Advances in Necessary Condition Analysis. The book is hosted on https://bookdown.org/ncabook/advanced_nca2/.
References