E

Qualitative item characteristics

Item reading level information was performed via the packages quanteda version 2.1.2 (Benoit et al., 2020) and quanteda.textstats version 0.94.1 (Benoit et al., 2021) in R version 4.0.5 (2021-03-31) (R Core Team, 2021). Two indices were investigated: "Flesch-Kincaid" is the same grade level index that's currently used by Microsoft Word (Kincaid et al., 1975) whereas "Dale.Chall" reflects Nwd ["difficulty" of words; Chall & Dale (1995)]. These indices are primarily influenced by two qualitative characteristics: Nwf, which is the number of words matching the Dale-Chall List of 3000 "familiar words," and Nwd, which is the number of "difficult" words not matching the Dale-Chall list of "familiar" words.

The average Flesch-Kincaied (e.g., reading grade) for our 36 candidate pilot items was 6.2 (sd = 3.04). The average Dale-Chall index was 38.61 (sd = 11.11).
E.1

Frequency distributions by dimension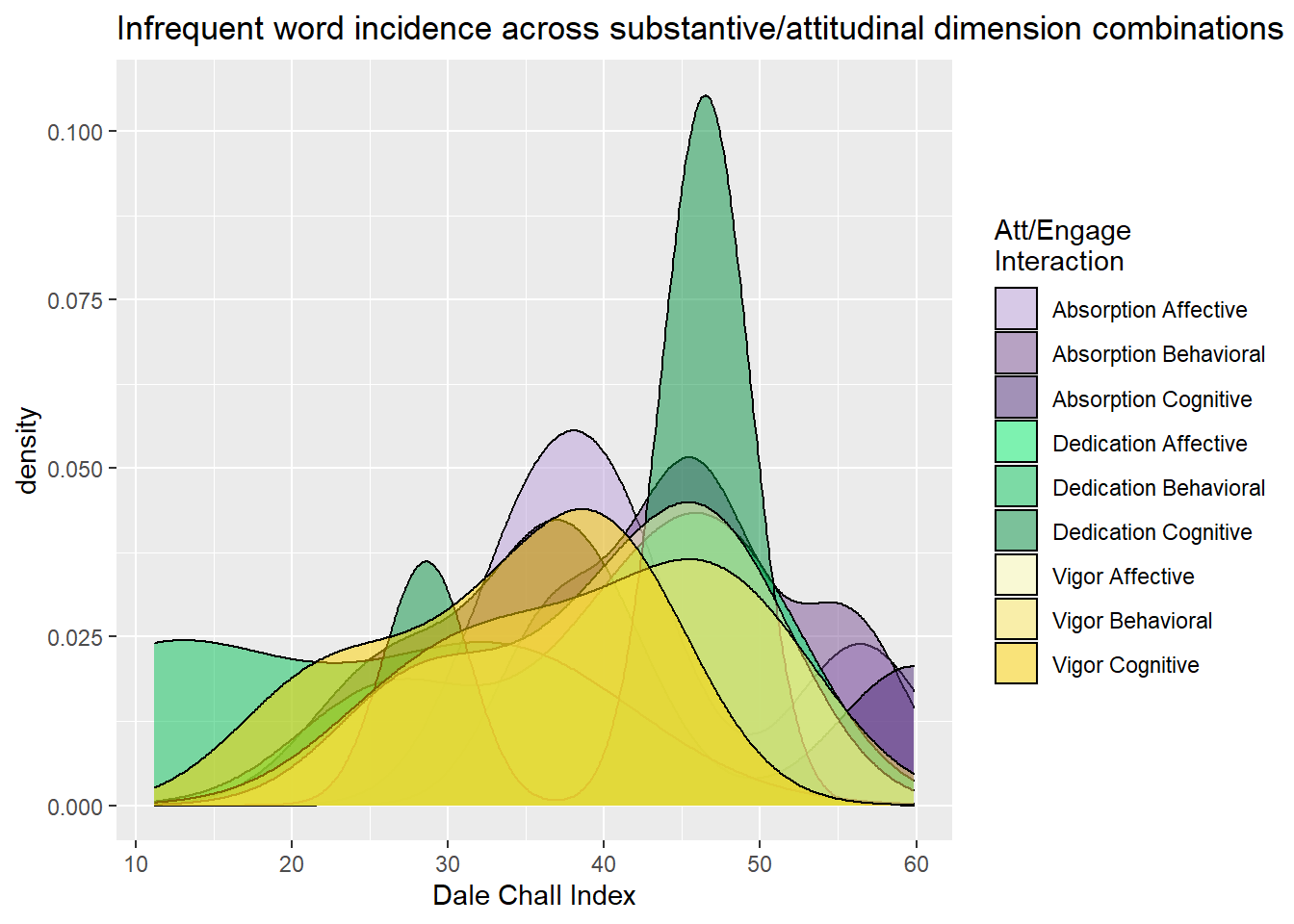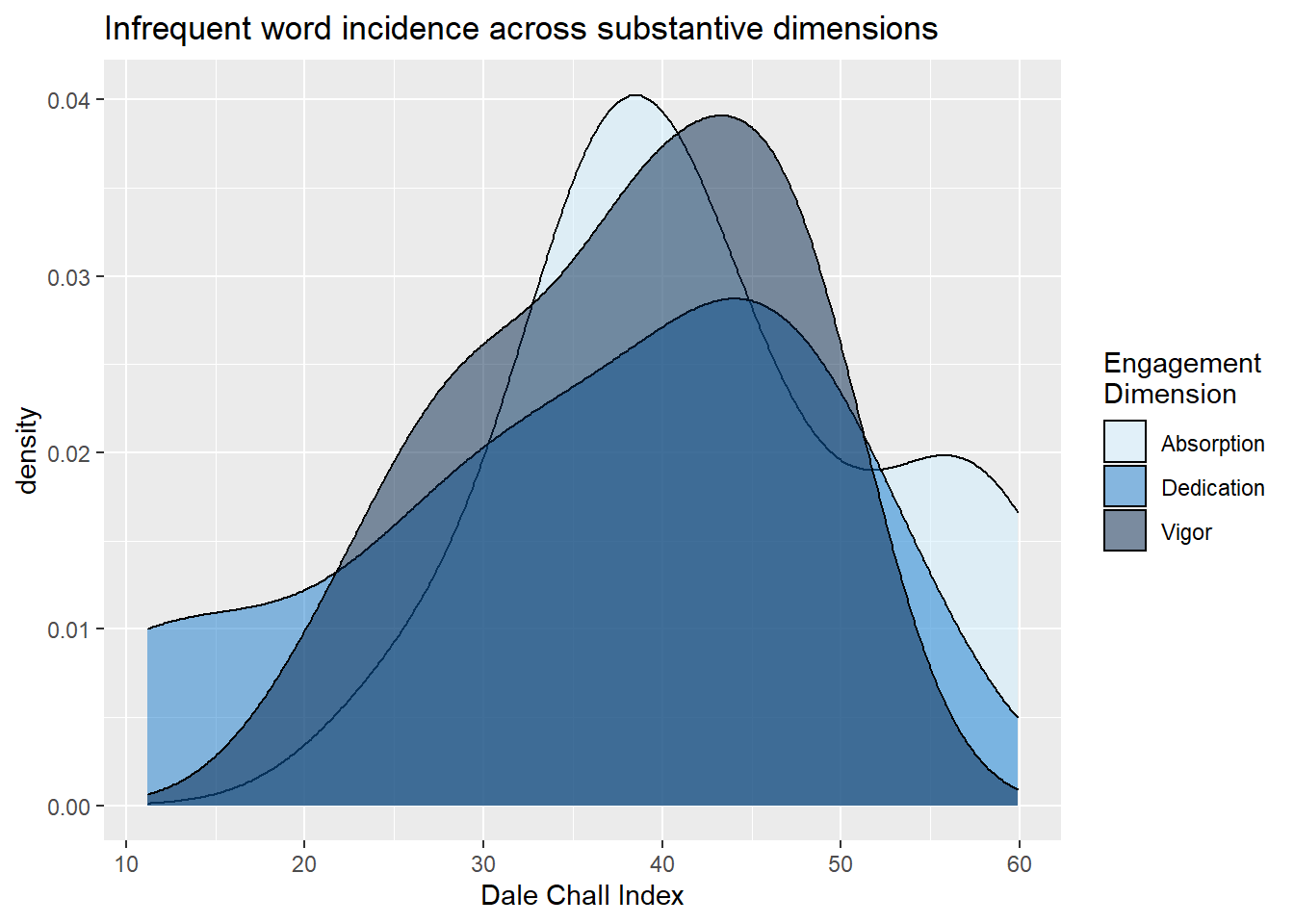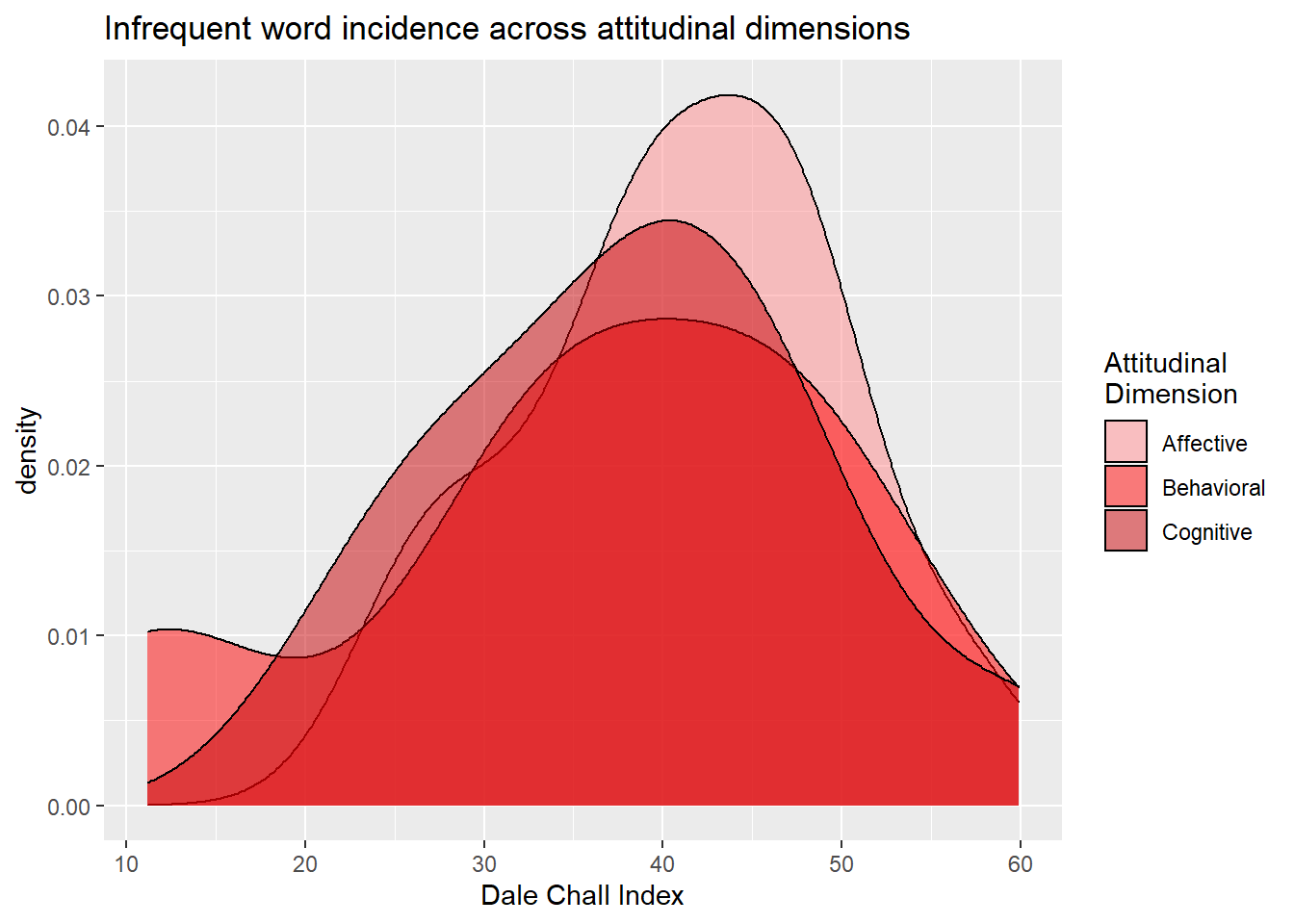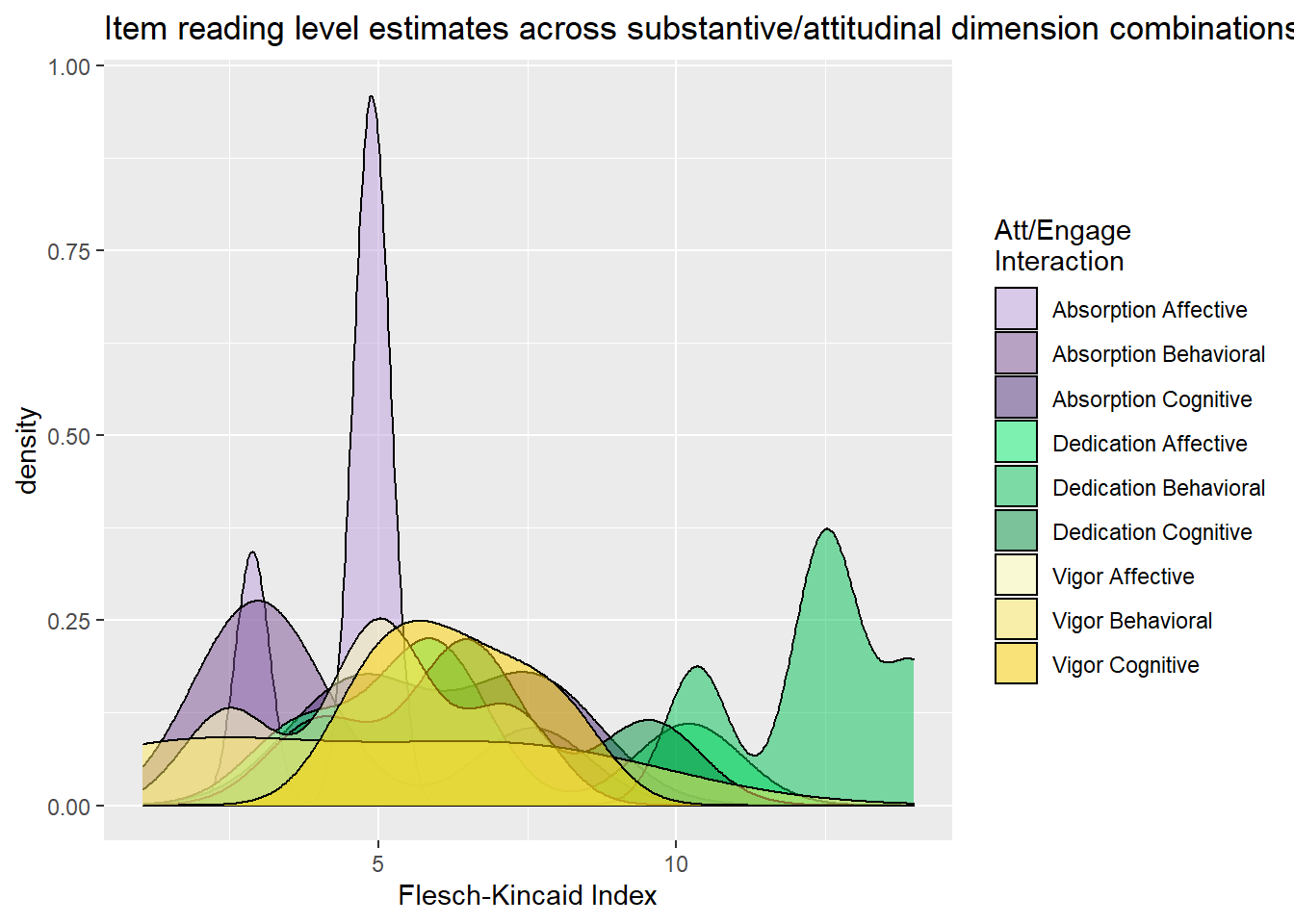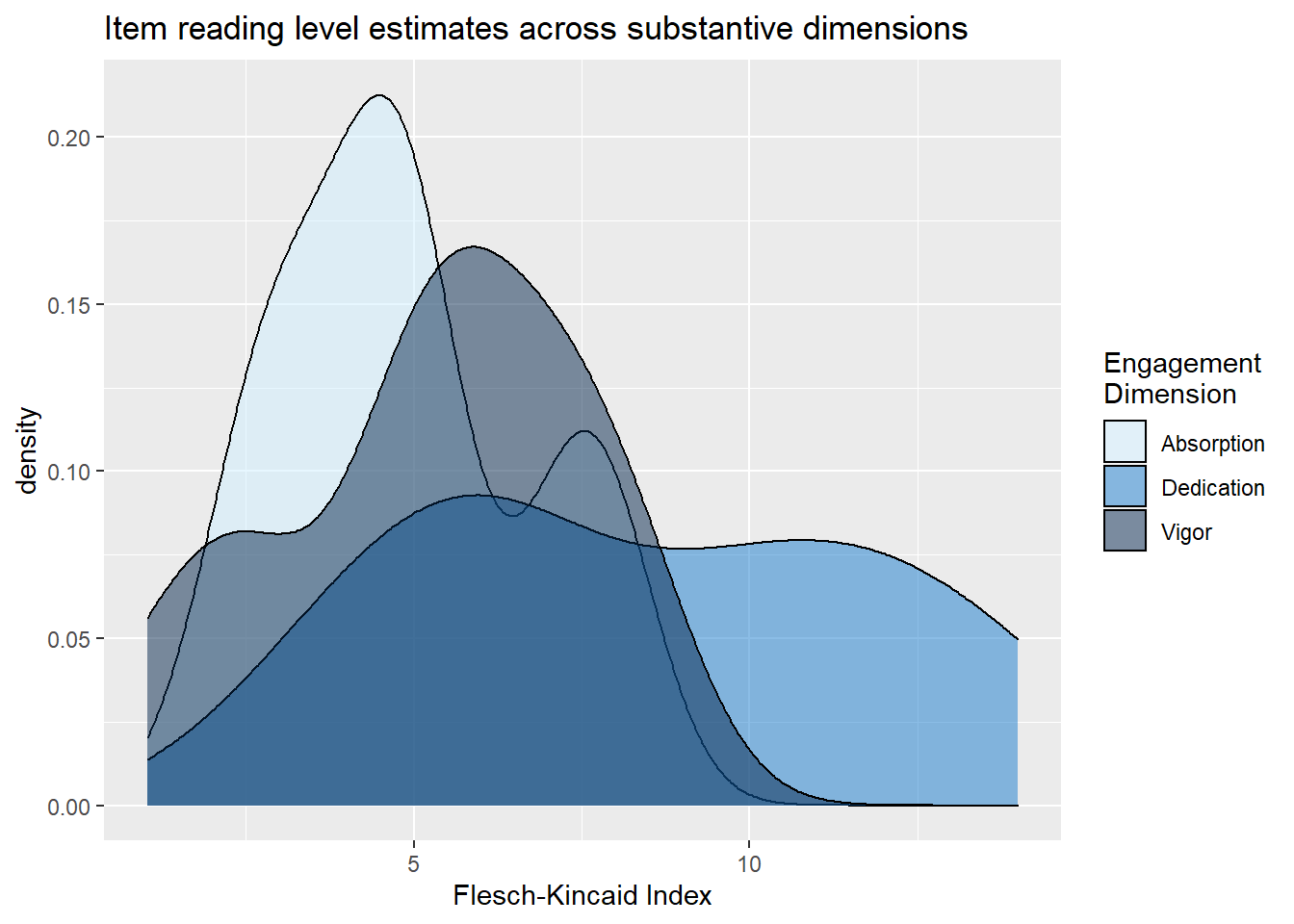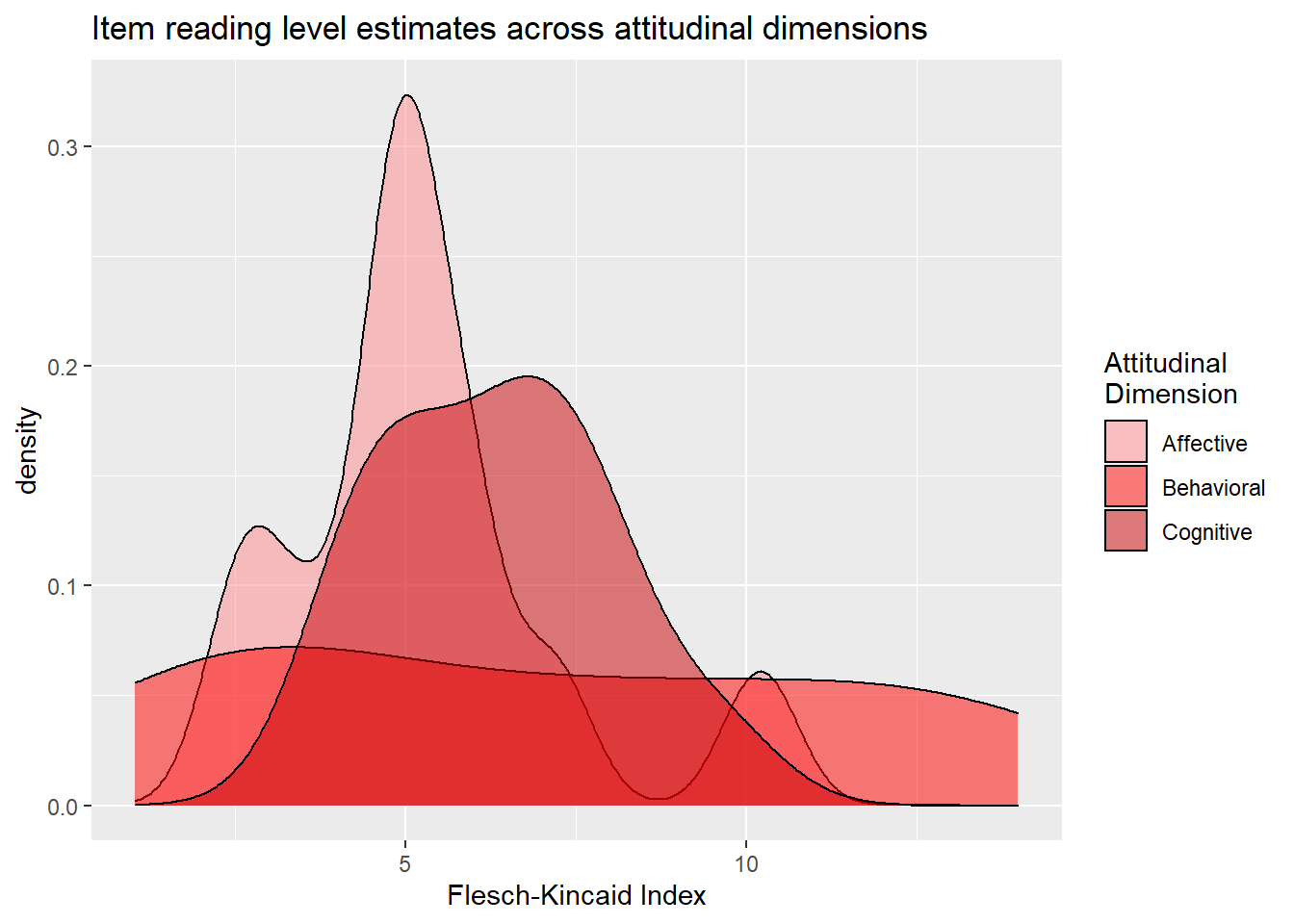 E.2

Tables of qualitative indices
Table E.1:

Organized by Flesch-Kincaid aka Reading Level

| | document | Substantive | Attitudinal | Flesch.Kincaid | Dale.Chall |
| --- | --- | --- | --- | --- | --- |
| 36 | This organization provides the resources necessary for me to successfully perform my job | Dedication | Behavioral | 14.0 | 11 |
| 35 | I speak positively about this organization to others. | Dedication | Behavioral | 12.6 | 35 |
| 33 | I make valued contributions to the organization | Dedication | Behavioral | 12.4 | 32 |
| 34 | I embrace challenging situations at work. | Dedication | Behavioral | 10.3 | 12 |
| 31 | I feel proud of my accomplishments within this organization | Dedication | Affective | 10.2 | 26 |
| 28 | This organization challenges me to work at my full potential | Dedication | Cognitive | 9.6 | 29 |
| 24 | If I notice my energy level is low, I take corrective steps to re-energize. | Vigor | Behavioral | 8.3 | 28 |
| 16 | I'm able to maintain good levels of energy throughout the workday | Vigor | Cognitive | 8.0 | 22 |
| 1 | I'm able to concentrate on my work without distractions | Absorption | Cognitive | 7.6 | 37 |
| 4 | I find it difficult to mentally disconnect from work | Absorption | Cognitive | 7.6 | 26 |
| 12 | I never allow distractions to interfere with my work | Absorption | Behavioral | 7.6 | 37 |
| 18 | Most days I feel enthusiastic about starting my work day. | Vigor | Affective | 7.2 | 48 |
| 15 | I would rather direct my focus toward a work task than a personal task | Vigor | Cognitive | 6.7 | 41 |
| 27 | I often think about finding another job (r) | Dedication | Cognitive | 6.7 | 47 |
| 22 | I express enthusiasm for my job while at work | Vigor | Behavioral | 6.3 | 37 |
| 26 | I believe this company cares about my career goals | Dedication | Cognitive | 6.3 | 47 |
| 29 | I am proud to be a member of this organization. | Dedication | Affective | 6.0 | 48 |
| 30 | I feel supported by my supervisor when I fail at a task | Dedication | Affective | 5.8 | 40 |
| 14 | Thinking about work saps my energy (r) | Vigor | Cognitive | 5.7 | 32 |
| 17 | I enjoy spending time completing my job tasks. | Vigor | Affective | 5.2 | 47 |
| 6 | Most days, I feel happiest when the workday is soon to be complete (r) | Absorption | Affective | 5.0 | 34 |
| 2 | I have a hard time detaching mentally from my work | Absorption | Cognitive | 4.8 | 38 |
| 7 | I am happiest when I am immersed in a project | Absorption | Affective | 4.8 | 38 |
| 13 | I devote my full attention to my work tasks throughout the day | Vigor | Cognitive | 4.8 | 40 |
| 5 | I enjoy thinking about work even when I'm not at work | Absorption | Affective | 4.8 | 56 |
| 19 | I feel motivated to go beyond what is asked of me | Vigor | Affective | 4.8 | 39 |
| 3 | Time passes quickly while I'm working | Absorption | Cognitive | 4.4 | 60 |
| 25 | I plan my future with this company. | Dedication | Cognitive | 4.0 | 46 |
| 32 | My job makes me feel like I'm part of something meaningful | Dedication | Affective | 3.7 | 48 |
| 9 | I devote more time than is expected of me. | Absorption | Behavioral | 3.6 | 47 |
| 8 | I love starting my workday. | Absorption | Affective | 2.9 | 42 |
| 10 | I have to be reminded to take breaks while I'm at work | Absorption | Behavioral | 2.9 | 56 |
| 11 | I never miss a work deadline. | Absorption | Behavioral | 2.5 | 44 |
| 20 | This job drains my energy (r) | Vigor | Affective | 2.5 | 28 |
| 21 | When work is slow I find ways to be productive. | Vigor | Behavioral | 2.5 | 48 |
| 23 | I try my best to perform well at work | Vigor | Behavioral | 1.0 | 47 |
Table E.1:

Organized by Dale Chall aka includes Difficult Words

| | document | Substantive | Attitudinal | Flesch.Kincaid | Dale.Chall |
| --- | --- | --- | --- | --- | --- |
| 36 | This organization provides the resources necessary for me to successfully perform my job | Dedication | Behavioral | 14.0 | 11 |
| 34 | I embrace challenging situations at work. | Dedication | Behavioral | 10.3 | 12 |
| 16 | I'm able to maintain good levels of energy throughout the workday | Vigor | Cognitive | 8.0 | 22 |
| 4 | I find it difficult to mentally disconnect from work | Absorption | Cognitive | 7.6 | 26 |
| 31 | I feel proud of my accomplishments within this organization | Dedication | Affective | 10.2 | 26 |
| 20 | This job drains my energy (r) | Vigor | Affective | 2.5 | 28 |
| 24 | If I notice my energy level is low, I take corrective steps to re-energize. | Vigor | Behavioral | 8.3 | 28 |
| 28 | This organization challenges me to work at my full potential | Dedication | Cognitive | 9.6 | 29 |
| 14 | Thinking about work saps my energy (r) | Vigor | Cognitive | 5.7 | 32 |
| 33 | I make valued contributions to the organization | Dedication | Behavioral | 12.4 | 32 |
| 6 | Most days, I feel happiest when the workday is soon to be complete (r) | Absorption | Affective | 5.0 | 34 |
| 35 | I speak positively about this organization to others. | Dedication | Behavioral | 12.6 | 35 |
| 1 | I'm able to concentrate on my work without distractions | Absorption | Cognitive | 7.6 | 37 |
| 12 | I never allow distractions to interfere with my work | Absorption | Behavioral | 7.6 | 37 |
| 22 | I express enthusiasm for my job while at work | Vigor | Behavioral | 6.3 | 37 |
| 2 | I have a hard time detaching mentally from my work | Absorption | Cognitive | 4.8 | 38 |
| 7 | I am happiest when I am immersed in a project | Absorption | Affective | 4.8 | 38 |
| 19 | I feel motivated to go beyond what is asked of me | Vigor | Affective | 4.8 | 39 |
| 13 | I devote my full attention to my work tasks throughout the day | Vigor | Cognitive | 4.8 | 40 |
| 30 | I feel supported by my supervisor when I fail at a task | Dedication | Affective | 5.8 | 40 |
| 15 | I would rather direct my focus toward a work task than a personal task | Vigor | Cognitive | 6.7 | 41 |
| 8 | I love starting my workday. | Absorption | Affective | 2.9 | 42 |
| 11 | I never miss a work deadline. | Absorption | Behavioral | 2.5 | 44 |
| 25 | I plan my future with this company. | Dedication | Cognitive | 4.0 | 46 |
| 17 | I enjoy spending time completing my job tasks. | Vigor | Affective | 5.2 | 47 |
| 27 | I often think about finding another job (r) | Dedication | Cognitive | 6.7 | 47 |
| 9 | I devote more time than is expected of me. | Absorption | Behavioral | 3.6 | 47 |
| 23 | I try my best to perform well at work | Vigor | Behavioral | 1.0 | 47 |
| 26 | I believe this company cares about my career goals | Dedication | Cognitive | 6.3 | 47 |
| 18 | Most days I feel enthusiastic about starting my work day. | Vigor | Affective | 7.2 | 48 |
| 21 | When work is slow I find ways to be productive. | Vigor | Behavioral | 2.5 | 48 |
| 29 | I am proud to be a member of this organization. | Dedication | Affective | 6.0 | 48 |
| 32 | My job makes me feel like I'm part of something meaningful | Dedication | Affective | 3.7 | 48 |
| 10 | I have to be reminded to take breaks while I'm at work | Absorption | Behavioral | 2.9 | 56 |
| 5 | I enjoy thinking about work even when I'm not at work | Absorption | Affective | 4.8 | 56 |
| 3 | Time passes quickly while I'm working | Absorption | Cognitive | 4.4 | 60 |