Chapter 2

Introduction

The R Statistical Software, developed and maintained by the R Core Team, may be considered as a powerful tool for the statistical community. The software being a Free Open Source Software is simply icing on the cake. R is evolving as the preferred companion of the Statistician. The reasons are aplenty. To begin with, this software has been developed by a team of Statisticians. Ross Ihaka and Robert Gentleman laid the basic framework for R, and later a group was formed who are responsible for the current growth and state of it. R is a command-line software and thus powerful with a lot of options for the user.
2.1

R Installation

The website http://cran.r-project.org/ consists of all versions of R available for a variety of Operating Systems. CRAN is an abbreviation for Comprehensive R Archive Network. An incidental fact is that R had been developed on the Internet only. A user of Windows first needs to download the recent versions executable file, currently R-4.1.2-win.exe, and then merely double-click to complete the installation process.

A better way of becoming familiar with a software is to start with simple and useful programs. In this chapter, we aim to make the reader feel at home with the R software. The reader often struggles with the syntax of a software, and it is essentially this shortcoming that the reader will overcome after going through the later sections.
2.2

Familiarization of environments in R

Consider for a moment how your computer stores files. Every file is saved in a folder, and each folder is saved in another folder, which forms a hierarchical file system. If your computer wants to open up a file, it must first look up the file in this file system.

You can see your file system by opening a finder window. For example, Figure 2.1 shows part of the file system on my computer. I have hundreds of folders. Inside one of them is a subfolder named Documents, inside of that subfolder is a sub-subfolder named ggsubplot, inside of that folder is a folder named inst, inside of that is a folder named doc, and inside of that is a file named manual.pdf.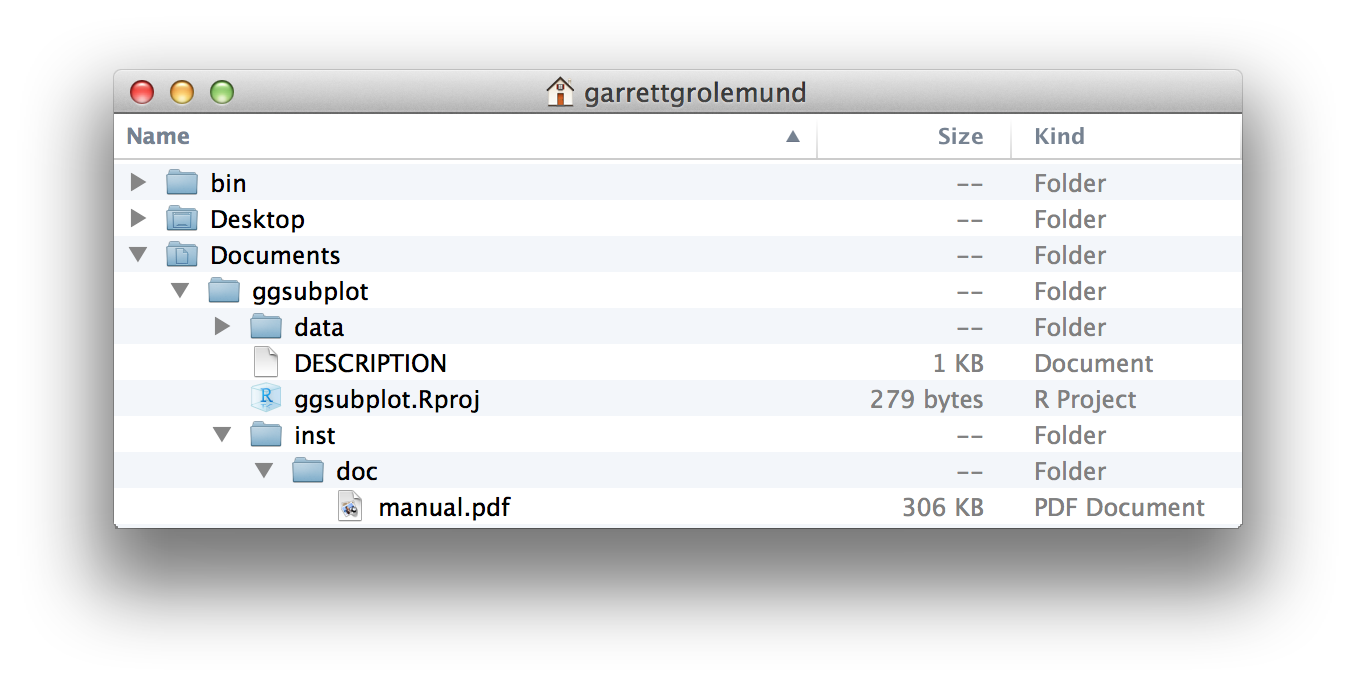 R uses a similar system to save R objects. Each object is saved inside of an environment, a list-like object that resembles a folder on your computer. Each environment is connected to a parent environment, a higher-level environment, which creates a hierarchy of environments.
You can see R's environment system with the parenvs function in the pryr package (note parenvs came in the pryr package when this book was first published). parenvs(all = TRUE) will return a list of the environments that your R session is using. The actual output will vary from session to session depending on which packages you have loaded.
R's environments exist in your RAM memory, and not in your file system. Also, R environments aren't technically saved inside one another. Each environment is connected to a parent environment, which makes it easy to search up R's environment tree. But this connection is one-way: there's no way to look at one environment and tell what its "children" are. So you cannot search down R's environment tree. In other ways, though, R's environment system works similar to a file system. R works closely with the environment tree to look up objects, store objects, and evaluate functions. How R does each of these tasks will depend on the current active environment.
2.2.1

The Active Environment

At any moment of time, R is working closely with a single environment. R will store new objects in this environment (if you create any), and R will use this environment as a starting point to look up existing objects (if you call any). I'll call this special environment the active environment. The active environment is usually the global environment, but this may change when you run a function.

You can use environment to see the current active environment:
## <environment: R_GlobalEnv>
The global environment plays a special role in R. It is the active environment for every command that you run at the command line. As a result, any object that you create at the command line will be saved in the global environment. You can think of the global environment as your user workspace.
When you call an object at the command line, R will look for it first in the global environment. But what if the object is not there? In that case, R will follow a series of rules to look up the object.
R saves its objects in an environment system that resembles your computer's file system. If you understand this system, you can predict how R will look up objects. If you call an object at the command line, R will look for the object in the global environment and then the parents of the global environment, working its way up the environment tree one environment at a time.
R will use a slightly different search path when you call an object from inside of a function. When you run a function, R creates a new environment to execute commands in. This environment will be a child of the environment where the function was originally defined. This may be the global environment, but it also may not be. You can use this behavior to create closures, which are functions linked to objects in protected environments.
As you become familiar with R's environment system, you can use it to produce elegant results, like we did here. However, the real value of understanding the environment system comes from knowing how R functions do their job. You can use this knowledge to figure out what is going wrong when a function does not perform as expected.
References
R Core Team. 2021.
R: A Language and Environment for Statistical Computing
. Vienna, Austria: R Foundation for Statistical Computing.
https://www.R-project.org/
.