1.4

Assessing Model Fit

Model-based inference—including phylodynamic inference—assumes that our inference model provides a reasonable description of the process that generated our study data; otherwise, our inferences—including estimates of relative and/or average dispersal rates and any summaries based on those parameter estimates (ancestral areas, dispersal histories, number of dispersal events, etc.)—are apt to be unreliable. Additionally, comparing alternative discrete-geographic models provides a means to objectively test hypotheses regarding the history of dispersal (i.e., by assessing the relative fit of our data to competing models that are specified to include/exclude a parameter relevant to the hypothesis under consideration). PrioriTree implements functions to help you assess both the relative fit and absolute fit of discrete-geographic models to an empirical dataset.
1.4.1

Comparing the relative fit of competing models

PrioriTree allows you to set up marginal-likelihood BEAST analyses by appending a marginalLikelihoodEstimator section to the XML, after the analysis configuration section of the MCMC that approximates the joint posterior distribution; this will allows you to estimate marginal likelihood through both thermodynamic integration (Lartillot and Philippe 2006) and stepping-stone sampling (Xie et al. 2011; Baele et al. 2012).

The number of powers and how many MCMC generations under each power may impact the accuracy of the marginal-likelihood estimates; default values are likely to be sufficient for most empirical datasets and models. However, the most straightforward way to assess the reliability of marginal-likelihood estimates is to perform replicate analyses to ensure that estimates are stable across replicates analyses. If the estimates differ significantly among replicates (say greater than a few log-likelihood units, especially if it is equal to or greater than the difference between the log marginal-likelihood estimates under competing models), consider increasing the number of powers and/or the MCMC chain length under each power.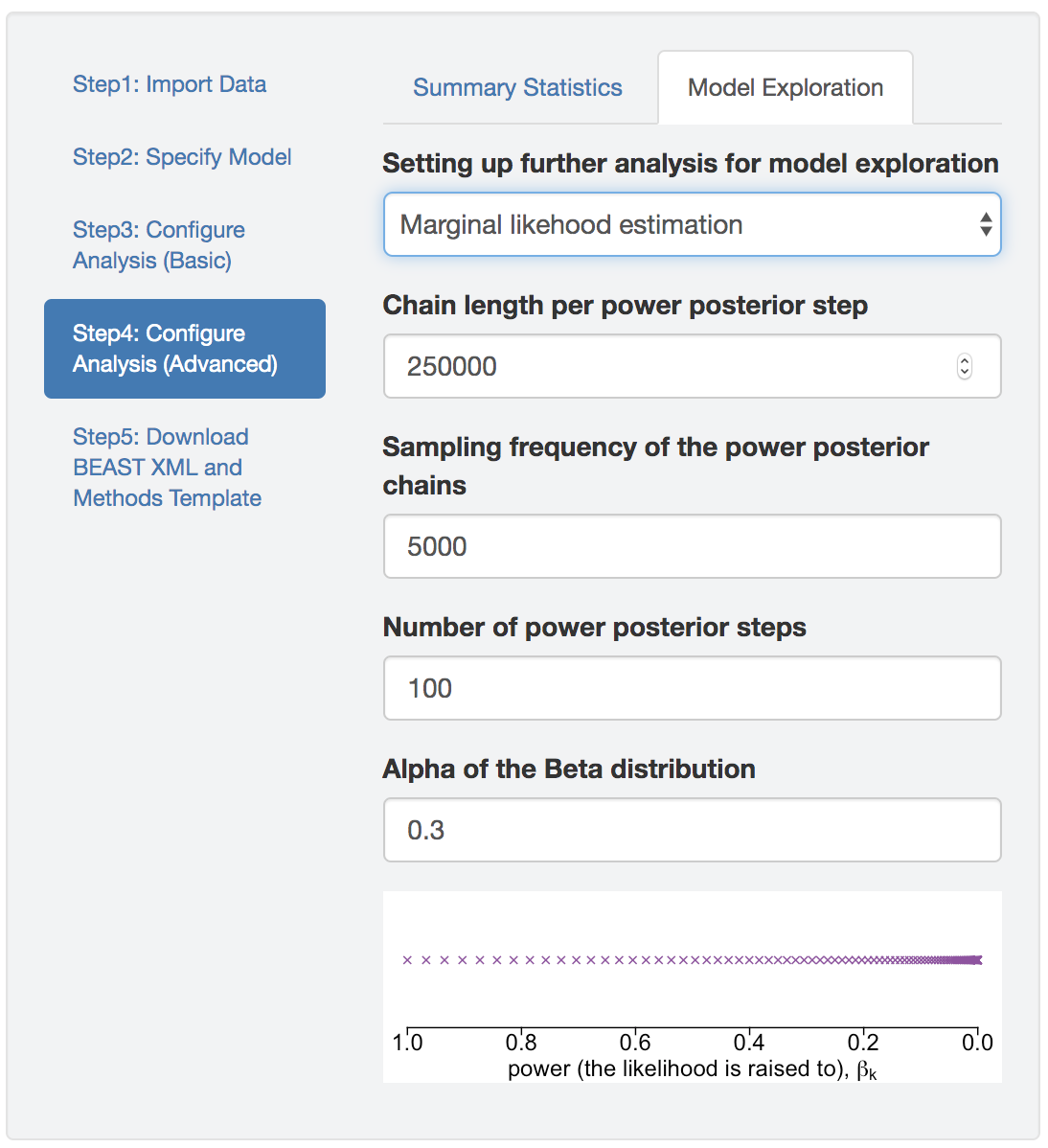 1.4.2

Posterior-predictive checking

To perform posterior-predictive checking, PrioriTree requires you to provide the observed data as well as the estimates (as log and tree files produced by BEAST) inferred from the data, assuming these inference outputs are generated by BEAST using the XML scripts produced by PrioriTree (only when this is the case, PrioriTree can reliably parse the log file and figure out the exact discrete-geographic model used in the inference, so that it can simulate data under that model). Once all the required input files are provided, you can start the simulation in PrioriTree, and then PrioriTree will generate plots to show the posterior-predictive distributions for each replicate analysis (as well as under different priors if they exist).
References
Baele, Guy, Philippe Lemey, Trevor Bedford, Andrew Rambaut, Marc A Suchard, and Alexander V Alekseyenko. 2012.
"Improving the Accuracy of Demographic and Molecular Clock Model Comparison While Accommodating Phylogenetic Uncertainty."
Molecular Biology and Evolution
29 (9): 2157–67.
Lartillot, N., and H. Philippe. 2006.
"Computing

B

ayes Factors Using Theromodynamic Integration."
Systematic Biology
55: 195–207.
Xie, W., P. O. Lewis, Y. Fan, L. Kuo, and M.-H. Chen. 2011.
"Improving Marginal Likelihood Estimation for

B

ayesian Phylogenetic Model Selection."
Systematic Biology
60: 150—160.