3.5

Tidal streams

The Sea Kayak Award is limited in scope to areas where tidal flow does not exceed 1 knot, and tidal planning is not explicitly covered in the syllabus. However, it is important to be able to identify locations where there may be strong tides, and it may well be important for our planning on the course trips to understand tidal streams.

A range of information sources about tidal streams exist, but we will focus here on using sea kayak guidebooks (like the excellent ones produced by Pesda Press).

Sea kayaking guidebooks include the most important tidal information from pilots and other sources. Being focused on kayaks, rather than large ships or yachts, they're a great source of information in a compact format. Over the last few years, Pesda Press has published an excellent set of guidebooks covering most of the UK.

Guidebook information is presented in a fairly understandable format. Its use is best illustrated by an example.
Describe the tidal flow in Saint Mary's Sound on June 1st 2017
We begin by consulting a tide table to find high water times for Plymouth, being careful to account for British Summer time: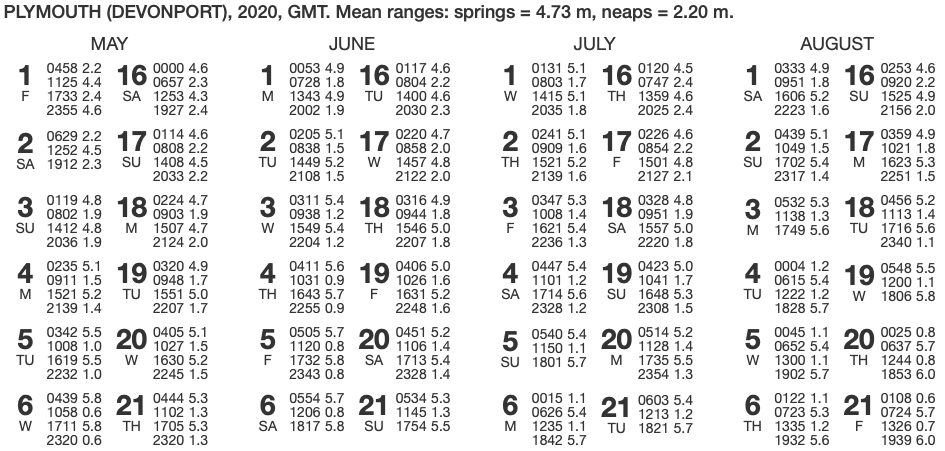 We'll focus on the afternoon high water at 14:43 BST. We'll need to subtract and add times to this as described in our guidebook extract above:
The ESE stream begins HW Plymouth -5:00
14:43 – 05:00 = 09:43 BST

The WNW stream begins HW Plymouth +2:00
14:43 + 02:00 = 16:43 BST
So, we expect the tide to run ESE from 09:43. It'll turn WNW at 16:43.