2

Introduction
2.1

Russell Westbrook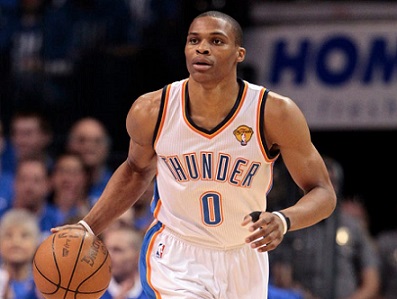 The National Basketball Association (NBA) is indisputably the top professional basketball league in the world, because of its competition quality, overall balance, and popularity. The league consists of the very best basketball players in the world, who come together to display the highest level of hoops on the planet, and more importantly compete for the prestigious Larry O'Brien NBA Championship Trophy. Over the last few years, the NBA has shifted to a guard-dominant league, as many guard-positioned players have flourished and become household names around the world. Among those athletes, Russell Westbrook has emerged as one of the best, most exciting, and most fun to watch superstars in the NBA.
A native of California, Westbrook was a product of the famous UCLA Bruins basketball brand, where he spent three years playing on the floor of Nell and John Wooden Court. He then got drafted by the Seattle SuperSonics in 2008, who soon relocated and switched name to Oklahoma City Thunder before the start of Westbrook's rookie season. During his memorable 11-year run with the Thunder, the 6'3'', 200lbs point guard is well-known for his athleticism, explosiveness, agility, and tenacity; with the signature move of fierce drives toward the rim at full speed. In addition, Westbrook played alongside many amazing and talented teammates, most notably, Kevin Durant, and achieved numerous individual awards. His last 3 seasons with OKC, especially 2016-17 - the first year after Durant's departure, was certainly the apex of Westbrook's NBA career, where he won an illustrious NBA Most Valuable Player (MVP) award, and on top of it all, Westbrook averaged a "triple-double" for each of those three campaigns.
2.2

Triple-Doubles

In basketball, a triple-double occurs when a player accumulates double-digit figures (ten or more) in three of five major statistical categories — points, rebounds, assists, steals, or blocks — in a single game. The most common type of triple-double in the NBA is having double digits in points, rebounds, and assists, although triple-doubles with steals or blocks have happened several times in the history of the league. This term became an official NBA statistics in the 1979-80 season, but long before they knew what to call a triple-double, a player by the name of Oscar Robertson, averaged this feat over the entire 1961-62 season. Besides "The Big O", other the famous "triple-double capable" players in the history of the association are Magic Johnson, Jason Kidd, LeBron James, and of course, our very own Russell Westbrook.

Over the last half-decade, triple-double has become a popular phenomenon in the NBA, as the number of players tallying this statistics has gone up dramatically, compared to earlier periods. This significant rise happened as a natural result of the severe stylistic changes the league has undergone, including the increase in pace and the upsurgence of more floor spacing and small ball lineups. As mentioned before, Russell Westbrook averaged a triple-double for three straight season, from 2016-17 to 2018-19, which is something that has never been accomplished before. In addition, Westbrook has also set and broken many records related to triple-doubles, including most triple-doubles in a regular season, longest game streak of triple-doubles, or most assists recorded in a triple-double. However, despite all of his achievements, Westbrooks also faced reams of criticism on his of "stat-padding" playing style and "gaudy" triple-doubles. But at the end of the day, we must recognize how great of a player Westbrook is and how much he has contributed to the game of basketball.

Since triple-double has been such an interesting basketball statistics over the last few years, we would like to take a closer look at this box score item for Russell Westbrook during OKC's post-Kevin Durant era. Furthermore, we are interested in seeing how triple-double and different basketball variables are related. To that end, we're now moving on to the first and arguably most important phase of this project: getting the data.