Chapter 2

Setting up a Project

Shannon
2.1

Git & GitHub

Here, we'll review our basic workflow to set up a new project with version control and collaboration through GitHub.

This assumes you have RStudio and GitHub installed and connected with each other (Git pane appears in RStudio). If this isn't the case, refer to Jenny Bryan's book for detailed instructions of that initial workflow. Jenny's book is also the best resource for solving tricky Git issues.

To initialize a project using RProjects and GitHub…
Go to January Advisors' GitHub and click the green New button
Give the repository a short and specific name
Select Private repository
Check the boxes for Add a README file and Add .gitignore. For .gitignore, choose the R template.
Click Create Repository
Click the green Code button and copy the HTTPS link
Open RStudio
Click File → New Project
On the popup, select Version Control → Git
Paste in the repository HTTPS link
It will automatically populate a local directory name, matching the name you selected in step 2. Don't change this- it's helpful for folder names in GitHub and your local computer to match
It will also automatically populate a path to that directory- all of your GitHub project folders should exist in the same parent directory. For me, that's My Documents → January Advisors.
Once your project is established on GitHub and locally, and before getting too involved with the project, you will want to set up the general file structure.
2.2

File Structures
2.2.1

Shiny Apps

For Shiny App projects, start in RStudio: File → New File → Shiny Web App...

Application name = temp_app (we'll delete this later) For "Application Type", select Multiple File (ur.R/server.R)

This will make a subdirectory within the main project directory with the app files. We don't want this- it's easiest if the app files live in the uppermost project directory. So, go to the project in your local file explorer, open the temp_app folder, and move the contents (ui.R and server.R) into the parent directory. You can now delete the temp_app folder. You should now hove 4 files in your local directory:
README.md
.Rproj file
server.R
ui.R
In your file explorer, make five new folders:
data-clean
data-raw
figures
rscripts
text
www
And one new R script (in RStudio, File → New File → R Script):
Your project folder should now look like this (.gitignore is hidden and can be seen/edited in RStudio)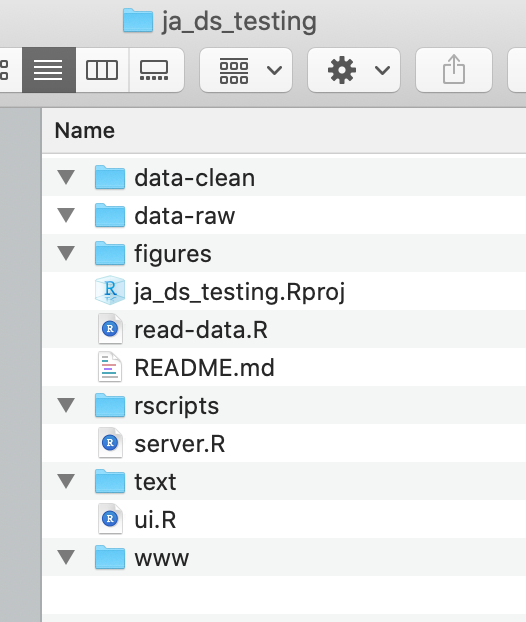 It's pretty easy to guess the contents of most of the folders, but it's worth reviewing:
data-clean: data that has undergone cleaning and ready for the app
data-raw: source data, untouched
figures: a place for exploratory data analysis figures you want to save, charts to email clients… almost always some ad hoc data viz comes up and it's good to have a place for it that doens't clutter the main directory
rscripts: data cleaning scripts, helper functions, and other scripts that support the app upstream but don't make it run
text: markdown files that contain copy for the app. For some apps with little text info, you might not need this
www: .css style sheets and images included in the app
Read more about Shiny Apps in the Shiny Chapter (6).
2.2.2

Analysis/Report Projects

File structure here is a little less important and potentially variable based on the type of report and analyses done. Almost universally, you will want at minimum the following folders to keep things tidy.
data-clean
data-raw
graphics
data-cleaning-scripts